Have you ever been sitting in front of a warm bowl of French onion soup, with its gooey melted cheese, the rich caramelized onions, and the aroma of toasted bread mingling with the savory broth teasing your taste buds, and not knowing the proper way to dig in? Worry no more: we're going to look at how to eat French onion soup, so next time you know!
When eating French onion soup with a thick layer of cheese on top, using both a spoon and knife to push and cut the cheese can help avoid a mess and make it easier to eat.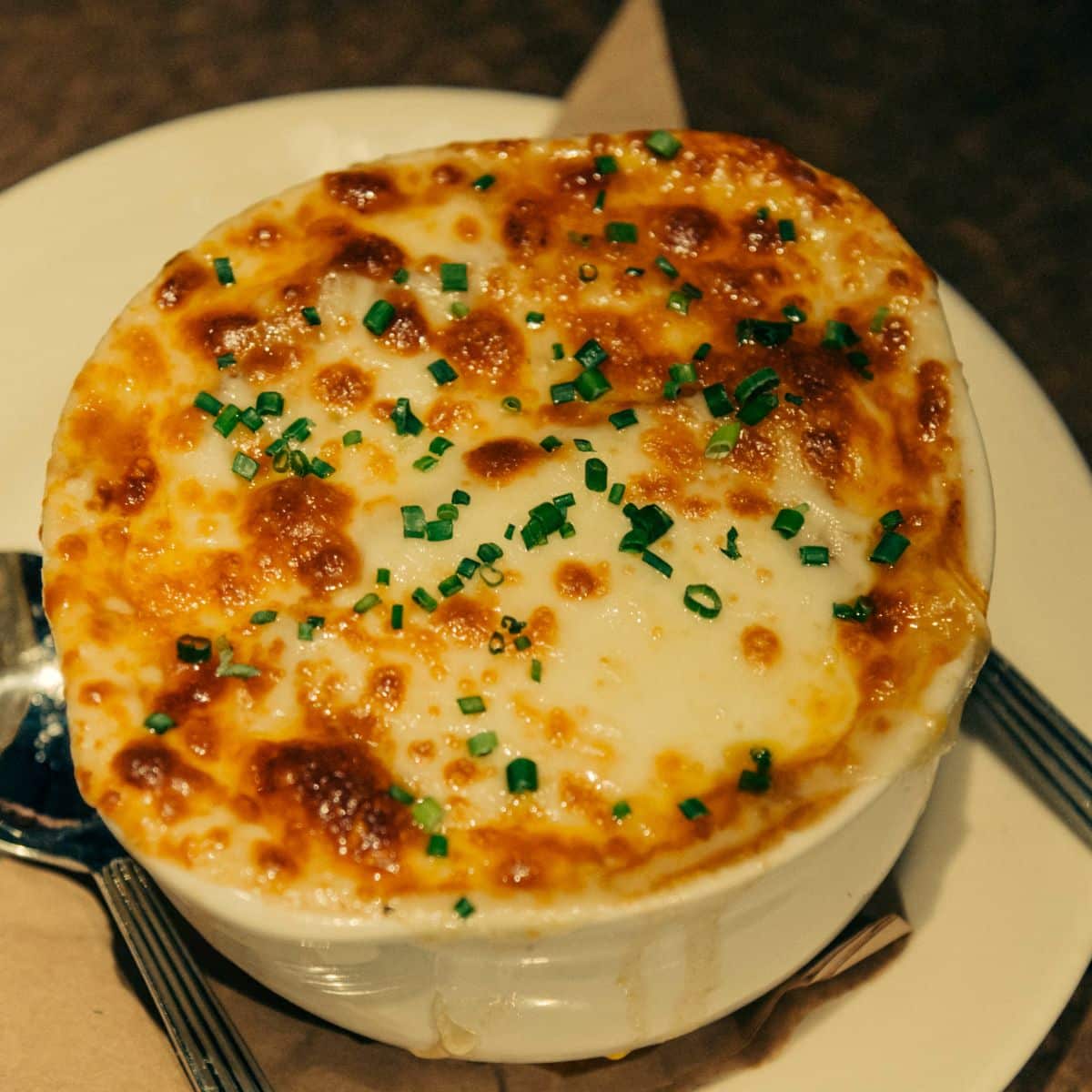 French onion soup is a classic French dish that is typically served in a bread bowl. The best French onion soup is made with yellow onions, beef broth, and a variety of seasonings. It is then topped with a piece of French bread and cheese and baked until the cheese is melted and bubbly. French onion soup is a classic French dish that is simple to make and can be enjoyed any time of year. Check out my traditional French onion soup recipe here.
How to Eat French Onion Soup
Eating a good French onion soup can be a bit tricky. The cheese on top can be thick and hard to eat with just a spoon. But don't worry, a knife can help: use both the spoon and the knife to cut the cheese and scoop it onto the spoon. First, push the cheese against the edge of the cup or bowl and gently cut it with the knife. Then, use the knife to nudge bits of cheese onto the spoon. You can also twist a strand of cheese around the spoon and cut it neatly with the knife. This will help you enjoy your soup without making a mess or getting cheese all over your face!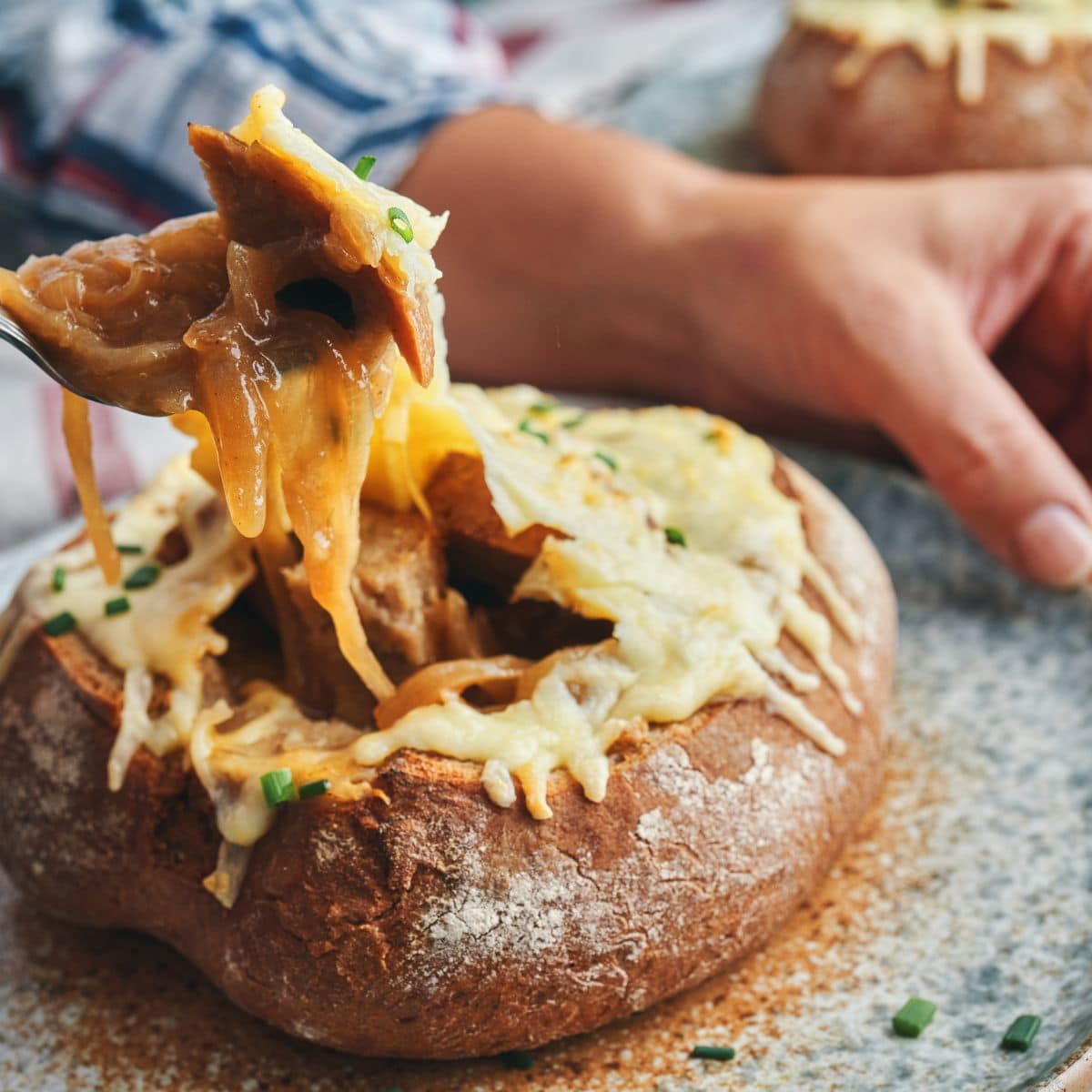 French onion soup etiquette
If you want to be proper while eating onion soup, make sure to use the right utensils - a soup spoon and a knife - to properly cut and scoop the cheese and soup. It's considered gauche (unsophisticated, lacking social experience or grace) to use a fork or your fingers, as this can lead to a messy and unappetizing eating experience.
Rather than rushing through it, eat the soup slowly and savor each spoonful.
Of course, keep your soup eating noise to a minimum, as slurping and loud sipping can be disruptive to others around you.
If you want to thank your server in French, say "Merci" :).
An awesome tip that will make it a lot easier to eat!
If you make French onion soup at home, instead of the traditional soup bowl, serve it in a rimmed pasta bowl: the rim holds the soup, and the rim can serve as a cutting area for the bread and cheese. Problem solved!
What cheese to put on French onion soup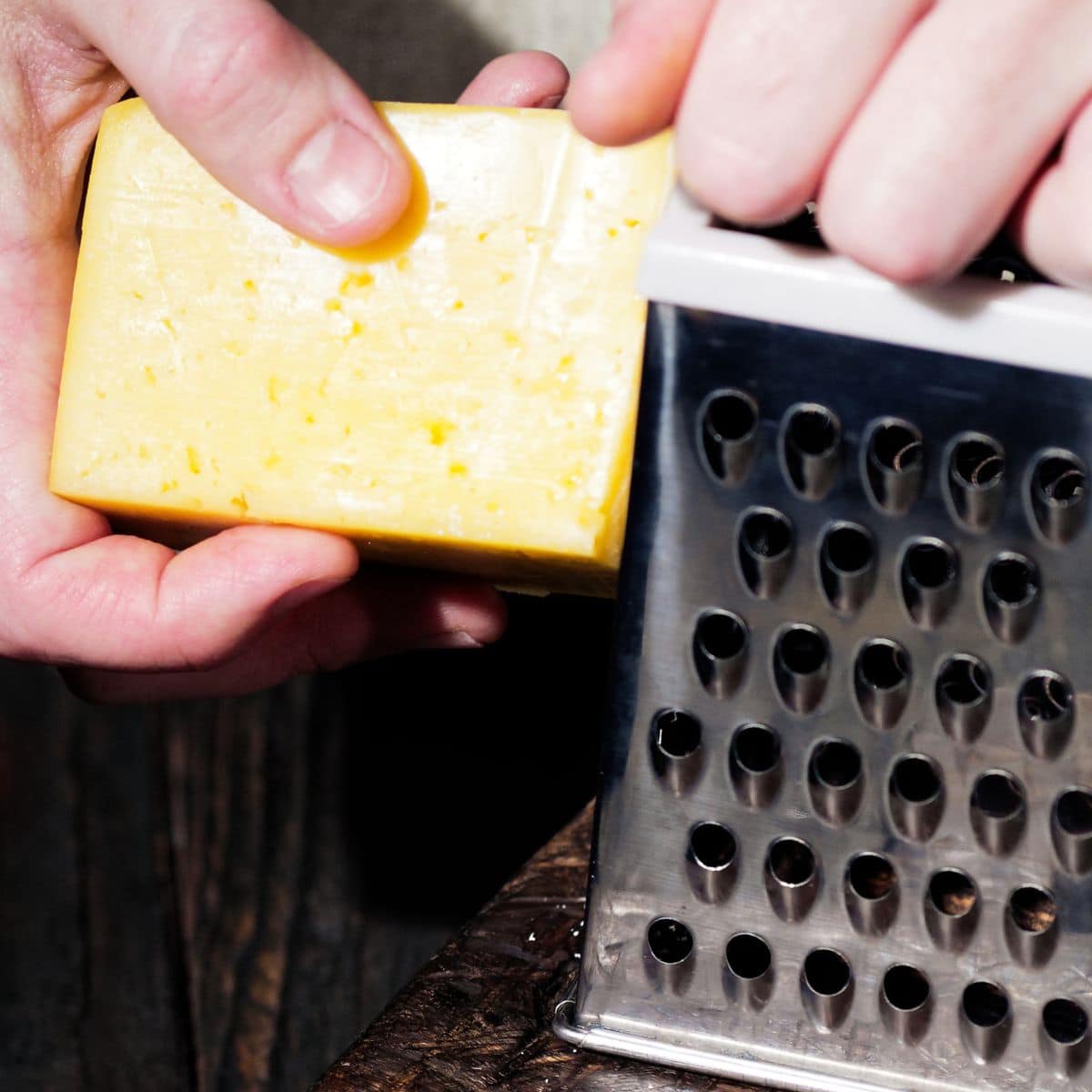 If you make your own French onion soup, use a cheese that melts well, to add that think, gooey crust on top. Here are some of the best melty cheeses I think are best:
Gouda
Swiss cheese
Mozzarella
Comte
Sides to eat with French onion soup
Here are some of the best side dishes to eat with onion soup to make it a complete meal:
Chicken Panini
Roasted veggies
Grilled cheese sandwich
Baguette slices
Cheesy bread
These are just a few ideas. The good news is you can pair this sop with whatever you have handy in your pantry or your fridge.
FAQs
Sometimes nothing else hits the spot like a hot bowl of French onion soup. You can serve up this delicious soup with brown sugar, some Parmesan cheese sprinkled on top, perfect caramelized onions, and chewy French bread.
Here are some questions people often ask about how to eat French onion soup.
What should I serve with French onion soup?
A great bowl of French onion soup is good by itself, but there are also many delicious dishes you can serve with it. This French classic is typically made with beef broth (vegetable or chicken stock works too!), onions, and croutons. It can be served as a main course or as an appetizer.
When serving French onion soup as a main course, it is traditionally served with a salad. If you are serving French onion soup as an appetizer, you may want to consider serving it with a side of bread or crackers. French onion soup can also be served with a side of rice or potatoes.
How do you eat French onion soup in a bread bowl?
When eating French onion soup in a bread bowl, it is important to first remove the piece of bread from the top of the soup. This will help to prevent the bread from getting soggy. Next, use a spoon to carefully scoop out the soup, being careful not to break the bread bowl.
Can you make French onion soup at home?
Classic French onion soup can be made at home. In fact, homemade French onion soup is pretty simple to learn, then you can make your own variations over time. It requires simple ingredients like bay leaf, lemon juice, and sweet onions, and the best thing is that you get to enjoy the intense flavors when they are hot and fresh. Sprinkle some fresh thyme on it, grab your soup spoon, and you're good to go!
Can I use mozzarella cheese?
You can definitely use it, especially if you like a creamier soup. Just be aware that you'll end up with a much greasier soup.