Do you know measurement equivalents? How many teaspoons are in a tablespoon? And how many tablespoons are in ¼ cup? This post gives you an easy chart!
Measurement Equivalents, A Handy Chart
Hi. Don, the geek, here. Knowing how many teaspoons there are in a tablespoon can be helpful. When we are cooking and need to know what the measurement equivalents are, Lois and I use our Measurement Conversion Refrigerator Magnet (affiliate link) all the time. It's so easy.
You wouldn't believe how many times we use this little measurement equivalents chart, especially during the holidays when we are making double or triple a recipe because friends and family will join us for a holiday dinner. The recipe calls for 2 tablespoons and you are doubling it. So that's 4 tablespoons. Wouldn't it be easier to simply measure once using ¼ cup measure?
But here's a little measurement conversion table for you to use or memorize...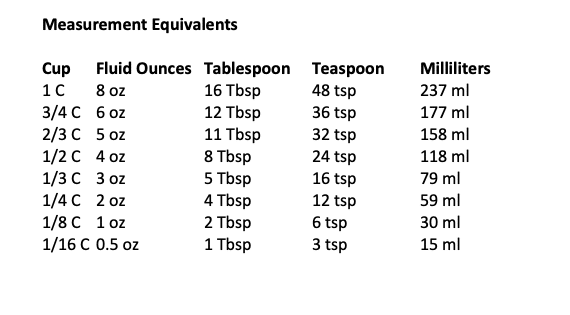 This post was first published on Recipe Idea Shop November 8, 2014 and updated November 9, 2021.