Sweet Baked Acorn Squash, only 3 ingredients. Bake for an hour. How easy is that? Watch me show you how to make it on WHSV's One-on-One Program with Bob Corso (link below).
Brown sugar makes terrific sweet baked acorn squash.
Fall is in the air, and that means it's time for Sweet Baked Acorn Squash. September 7 is National Acorn Squash Day. There's a day for just about everything, right?
I love Acorn Squash. Don doesn't. He only likes it the way his momma made it, with tons of butter and brown sugar. Its super good that way, but I prefer eating it the way my mom made it— with butter and salt and pepper (link for recipe at the end of the post). Both recipes are made the same way. Watch me show you how.
Be Efficient
The oven warms up your house during the crisp, cool fall. You might as well make a Meatloaf and Apple Crisp while you're at it.
What You Need
You will need a good knife, cutting board, measuring spoons and a casserole dish. But what you really want is a good set of pans, right?
Sweet Baked Acorn Squash Recipe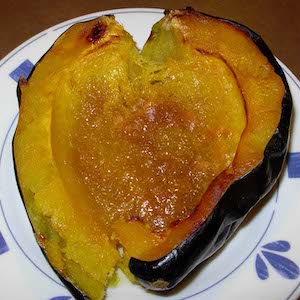 Sweet Baked Acorn Squash
Ingredients
1

acorn squash

4

tablespoons

brown sugar

4

tablespoons

butter
Instructions
Wash the outside of the squash.

Cut the squash in half and scoop out the seeds and stringy stuff in the center.

Cut each half of the squash in half (so now you have 4 pieces).

Place the squash on a baking pan with the flesh (inside) side up.

Add about ¼ cup of water to the bottom of the pan.

Put one tablespoon of butter and 1 tablespoon of brown sugar in the center of each piece of squash.

Bake in a 350F degree oven for about 45 minutes or an hour until the squash is tender.
Nutrition
Serving:
1
/4 of a medium acorn squash
Recipe Nutrition Information
This recipe is GF, NF, SF, EF, CF, V*
The information shown is an estimate provided by an online nutrition calculator. It should not be considered a substitute for a professional nutritionist's advice.
Nourish Your Body & Soul
I encourage you to care of yourself by eating satisfying, nourishing food that is good for your body and makes you feel healthy. Protect your spirit by living authentically, moving your body, and taking time to replenish and rest. I think you might also like these recipes & posts from Recipe Idea Shop:
Rate, Pin & Share!
Please Rate our recipes and posts, and Pin and Share them on social media. Comments are welcome, too!
*Allergen Key
GF = Gluten free | DF = Dairy free | NF = Nut free | SF = Soy free | EF = Egg free | CF = Corn free | V = Vegetarian | VG = Vegan
Note: If you have serious allergies or sensitivities, to be considered free of these allergens, you need to use products specifically marked "gluten free," etc. There can be cross-contamination in facilities.