Sweet Bourbon Salmon Recipe. Can I just say A-MAZ-ING! It's so delicious, you will absolutely love it. Add this recipe to your recipe repertoire.
Sweet Bourbon Salmon. Smashing. Scrumptious. Salmon.
Since this recipe is so outstanding, we thought you would appreciate this Sweet Bourbon Salmon recipe reprise, along with a full menu suggestion. Make the weekend special with an amazing homemade meal.
Don here. The weekend of my last college reunion at the Virginia Military Institute at breakfast on Sunday morning, we were talking, what else?, food. Judy Mawyer said she didn't like fishy tasting fish, but she had a wonderful recipe for salmon. Some brown sugar, butter, and bourbon in a skillet with salmon for 10 to 12 minutes and she has a beautiful, tasty supper.
So we stopped on the way home and bought some wild-caught Alaskan salmon and I fixed this new recipe while Lois made some Gluten Free Bread and Roasted Pumpkin to accompany it. Lois and I both loved this meal.
I'm coming up on my 50th+1 reunion in September (postponed by a year because of the pandemic, of course). I wonder what delicious ideas we will learn this time?
Food Pairings
To complete your amazing menu, how about adding some Roasted Root Vegetables, Lemon Rice, and a beautiful Green Salad with Balsamic Vinaigrette? Top it off with a terrific cup of coffee and a couple of Danish Sugar Cookies. My mouth is watering as I type this.
What You Need
Get yourself a nice set of white plates (affiliate link) and some quality cookware, and you will be able to impress your friends with this Sweet Bourbon Salmon recipe. Be elegant. Buy the best.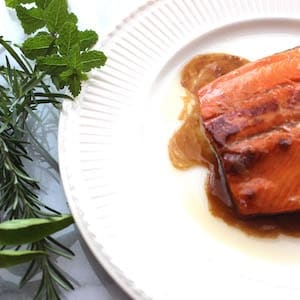 Sweet Bourbon Salmon Recipe
This Sweet Bourbon Salmon is so delectable, you won't want to have salmon any other way. Add it to your #Recipe-Repertoire.
Ingredients
2

salmon fillets

I like wild caught Alaskan salmon which I get frozen

2

tablespoons

butter

2

tablespoons

brown sugar

light or dark

⅓

cup

bourbon
Instructions
Over low heat melt the butter in a skillet.

As the butter melts, add the sugar and mix.

Increase the heat to medium high.

When the butter-sugar mixture bubbles, add the salmon fillets skin side up and reduce the heat to medium.

After 5 or 6 minutes, turn the salmon over and add the bourbon.

Cook for another 5 or 6 minutes, occasionally basting the salmon.
To Serve:
Spoon a small amount of the sauce onto a plate. Place the salmon fillet skin side down on the sauce. The sauce gets sticky as it cools and holds the skin to the plate, making it easy to separate the delicious salmon from the skin with just a fork.
Notes
If you are cooking more fillets than will fit in the skillet at the same time, cook the second batch in the remaining sauce but don't add additional bourbon.
Nutrition
Serving:
1
6-ounce salmon filet
Calories:
655
kcal
Carbohydrates:
8.8
g
Protein:
88.2
g
Fat:
30.1
g
Saturated Fat:
10.4
g
Polyunsaturated Fat:
13.6
g
Cholesterol:
232.5
mg
Sodium:
313
mg
Sugar:
8.7
g
More Recipes To Try