Crusty French Rolls, or as we call them in Milwaukee, Hard Rolls. Hard on the outside, soft on the inside. SO good!
Crusty French Rolls (Hard Roll)
Hi. It's Lois in the kitchen at Recipe Idea Shop, talking about Crusty French Rolls, a terrific addition to any meal, but especially, soup.
Don and I have been looking for a good œhard roll recipe for years. Hard rolls are readily available in Milwaukee, Wisconsin (where I'm from), but we haven't been able to find them in Virginia. He recently found this recipe (I'm not sure where), and it was amazing. It was easy to make, too! They are single rise.
It takes about an hour and 20 minutes to make these Crusty French Rolls, but they are so worth it.
Crusty French Rolls Recipe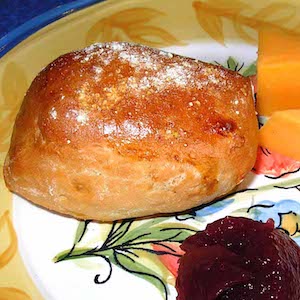 Crusty French Rolls
Superior hard rolls. Great with soup, salad or by themselves for breakfast.
Ingredients
1 ¾

cups

warm water

(may need 2 cups)

2

packages

active dry yeast

(about 5 teaspoons)

2

teaspoons

sugar

1

teaspoon

salt

4

cups

unbleached white flour

1

tablespoon

cornmeal

1

egg white

1

tablespoon

cold water
Instructions
Dissolve the yeast and sugar in 1 cup of warm water. Make sure the water is not too hot or it will kill the yeast. Make it about the temperature of bathwater.

Place the flour and salt in the bowl of a stand mixer with a dough hook and start mixing on low speed.

Slowly add the water/yeast mixture and enough additional water until the dough forms an elastic ball.

Continue mixing for 5 minutes more.

Turn the dough onto a lightly floured surface.

Divide it into 12 to 18 portions.

Shape each portion into a ball and place it on a greased baking sheet that has been sprinkled with corn meal.

Let the dough balls raise (covered with a clean cloth) in a warm, draft-free area until they are doubled in size (about 45 minutes).

Brush the tops with egg white mixed with the cold water.

Bake at 400F for 15 minutes.

Brush the tops again with the egg white/water mixture and bake for another 10 minutes until golden brown.

The medium sized rolls will take a bit longer than the small sized ones.

Bake the medium sized rolls at 375F for about 10 minutes additional total baking time.

Let the rolls cool on racks or place them in a warm bread basket to serve immediately. (Of course the cook should always take one immediately, butter and eat it to check the quality.)
https://recipeideashop.com/crusty-french-rollls/
Crusty French Rolls Nutrition
Pin & Share!
Please Pin and share our recipes. And tell us what you think in the comments.
You May Also Like These Recipes From Recipe Idea Shop
Last Updated on May 25, 2022 by Adriana