The Healthy Eating Plate Method of eating is an easy, visual way for anyone to eat the right portions for their meals. It's also very helpful for diabetics who need to maintain a certain type of diet to help with their symptoms. Unlike other diets, it's not restrictive and there are no points to count, nor any calories to count. Instead, it's about choosing the right portion sizes of the right types of food. Let's take a look.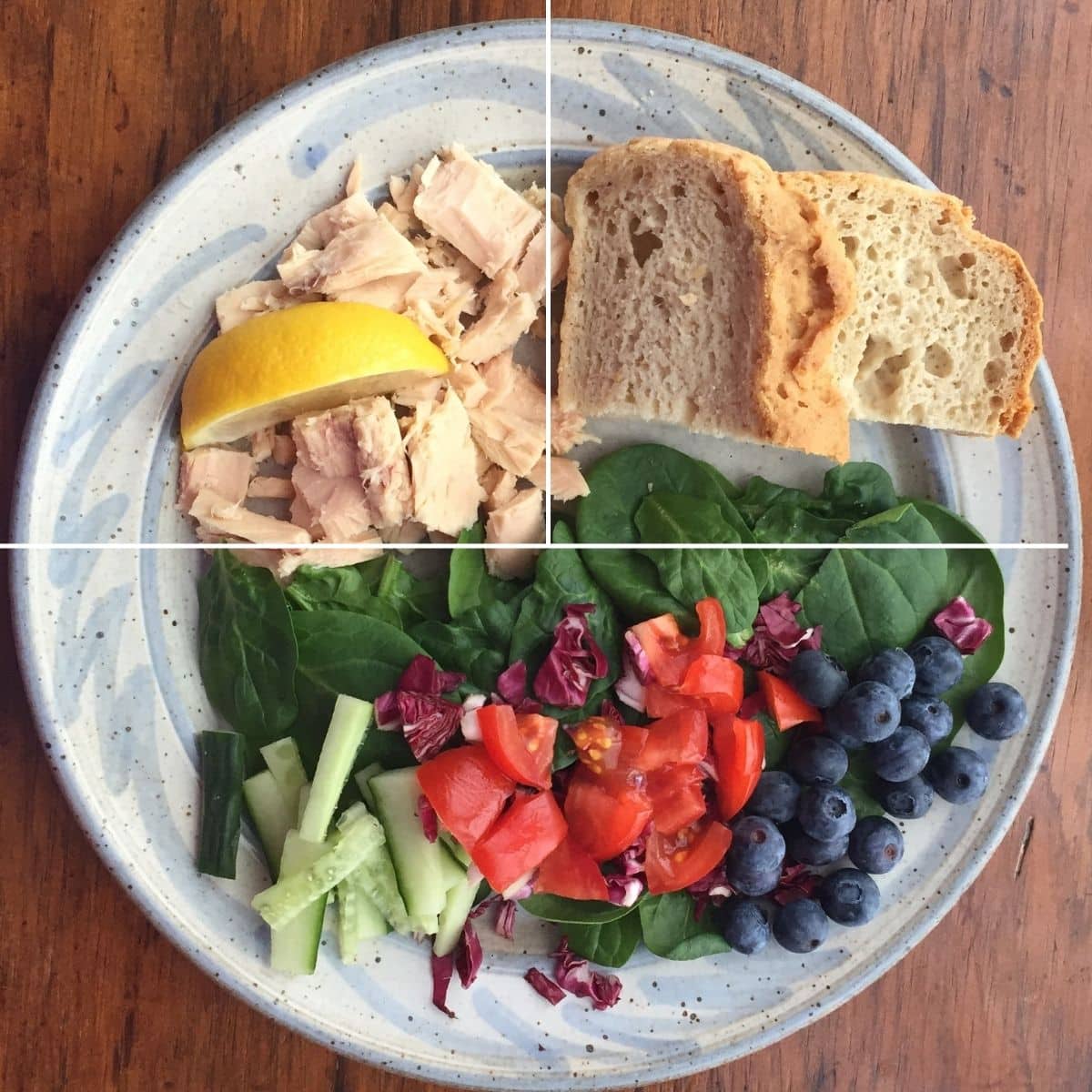 What is the Healthy Eating Plate?
Healthy Eating Plate is a guide to creating healthy, balanced meals. It was created by Harvard Health Publishing and nutrition experts at the Harvard School of Public Health. It's not a specific diet, but rather a way to choose items to go into your meal that gives you the proper daily recommended portions of each food type.
This is a great guideline for family dinners, packed lunches at work or school, and anywhere else you are enjoying a meal. The purpose is to focus on diet quality.
The Healthy Eating Plate consists of:
vegetables - ¼ of your plate
whole grains - ¼ of your plate
fruits - ¼ of your plate
healthy protein - ¼ of your plate
healthy oils - in moderation
water - avoid sugary drinks and get enough water each day
The Healthy Plate's placemat also includes a red figure running as a reminder to stay active for a healthy body and mind.
Using the Healthy Eating Plate Method simplifies your life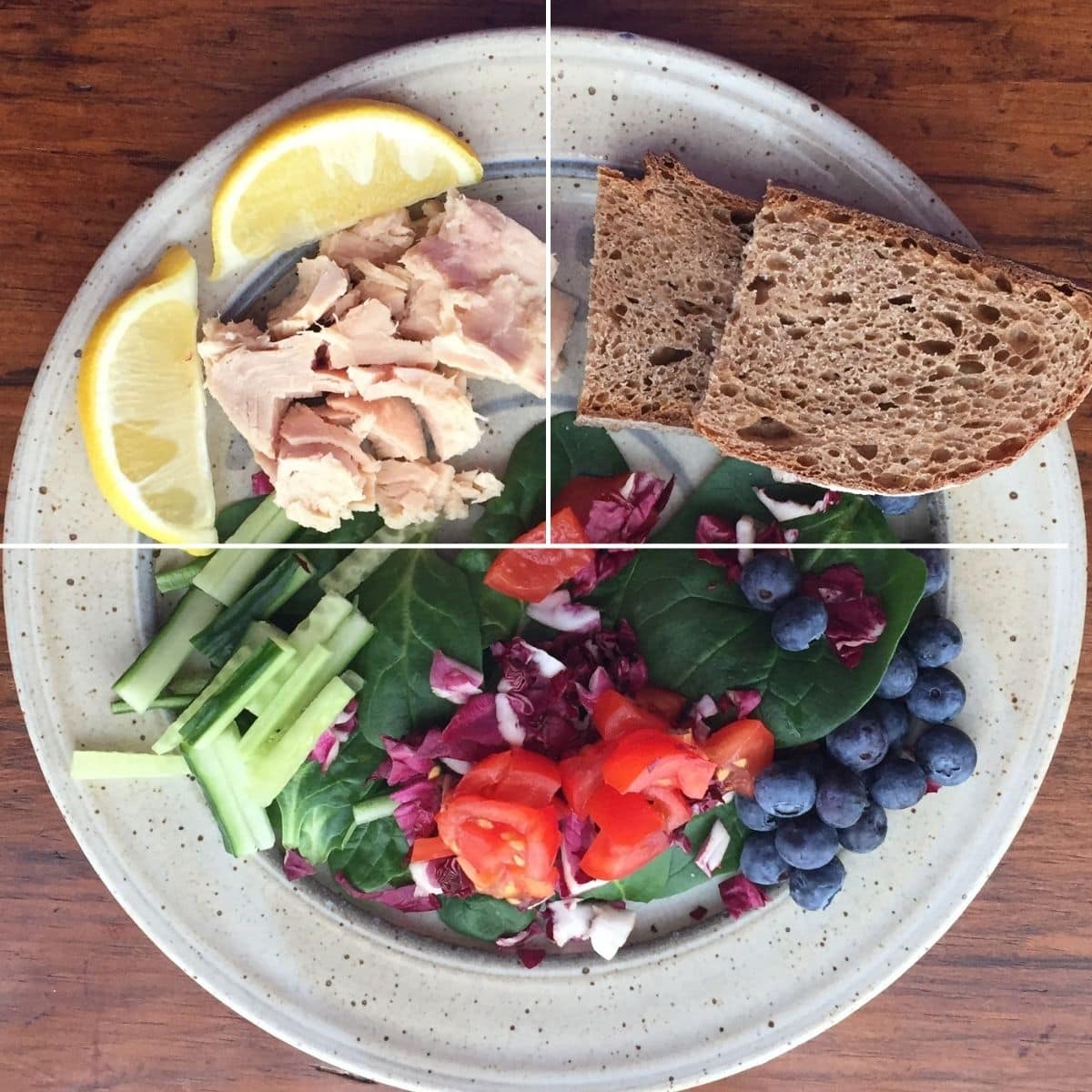 Are you looking for a simple way to figure out exactly how much of what to eat? Enter the Healthy Eating Plate Method of controlling what you eat. Take a look at the picture above. That looks tasty, doesn't it? And it's super easy. When you use this method to plan your meals, it makes it so much easier to figure out what to eat. There is no maximum on the number of calories you consume but encourages you to choose lean, plant oils for your fats whenever possible.
Figuratively Divide Your Plate
I divided the plate in the photo to help you see what you should be eating. Half the plate holds fruits and vegetables. One-quarter holds lean protein, in this case, tuna. And the final quarter of the plate holds healthy grains or starchy vegetables. You can add a little bit of fat (1 tablespoon of salad dressing or 1 teaspoon butter) and a little bit of dairy, like a cup of milk or a small, small piece of cheese (if you eat dairy products).
Using the Plate Method Diet
Using the plate method diet is a simple process. All you need to do is look at the diagram as a guide and then choose foods that sound good to you and that line up with the correct portion sizes. You don't need to count calories, or points, or have restricted foods. Fresh, unprocessed foods are always preferred when it comes to choosing, however.
Sound simple? It is!
Plate method recipes
You can use nearly any kind of recipe you want with the healthy plate meal plan.
Because you're not restricted by types of foods, you can do your meal planning with this plate method in mind. Some people also enjoy meal prepping their favorite foods and recipes on the weekend and then having meals planned out for the whole week.
If you pack your lunch at work, then you can use the plate method for your favorite recipes and pack them to bring with you each day. It's way healthier than eating out or grabbing something from the vending machine!
Here are some of my favorites:
Vegetables
Whole grains
Fruits
Any fresh fruit is a great addition to your meals. I personally love berries of all kinds, white peaches, and watermelons, especially while in season.
Healthy protein
Healthy Eating Plate vs USDA's MyPlate
Another common diet recommendation you will see is MyPlate from the USDA. If you're familiar with this visual, it is very similar to the Healthy Eating Plate. However, there are some differences. The My Plate contains:
fruits
grains
vegetables
protein
dairy on the side
Originally, the MyPlate guide did not say that whole grains were best for you, but it has since been adapted to add this. It lists proteins but doesn't specify what kinds of proteins are best for you. The Healthy Eating Plate goes into more detail about the types of proteins you can select for the best health.
MyPlate also doesn't distinguish between the different types of vegetables or fruits and which ones might be better for your overall health. MyPlate is also silent on fat and this could cause some people to choose less healthy fats.
And finally, MyPlate recommends dairy with every meal but Healthy Eating Plate encourages people to drink water instead.
Mediterranean Diet Plate Method
What is the Mediterranean diet plate method? Is it the same as the healthy eating plate plan?
You can actually do a Mediterranean twist to the healthy plate method. A Mediterranean Diet consists of healthy servings of fruits and vegetables, olive oil or other healthy oils and dressings, seafood or fish at least twice a week, and whole grains with meals, as well as nuts and seeds for snacks (check out these healthy snacks for ideas). These are all foods that fit well into the Healthy Plate plan as well.
Diabetic Exchange Diet Confusing
Being diagnosed with Type 2 Diabetes or Pre-Diabetes makes eating super complicated, doesn't it? It did for me. I began my journey with diabetes by trying to understand the Diabetic Exchange Diet, which I found to be both depressing and utterly confusing. I've written about that diet before.
It requires lots of memorization and counting. I've never been good at either, but I did eventually figure it out. The "exchanges" are not really "servings," although that's how they were described in the materials I was given by the nutritionist many years ago.
My nutritionist said I could, for a total of 1,695 calories per day, eat the following:
2 exchanges dairy
5 exchanges bread or starchy vegetables, but not more than one at a time!
7 exchanges fats
12 exchanges of lean meat (about 12 ounces)
3 exchanges fruit
3 exchanges vegetables
Not so simple, is it? However, I find this printable Diabetic Exchanges PDF from the University of California to be an excellent resource. It tells you how much of each common food you can eat at one meal. For example, you can have one-half a cup of corn. But if you have corn, you can't have another starchy vegetable or grain, assuming you are following what my nutritionist suggested. You quickly learn to fill up on the low-carb veggies, like spinach.
To get my blood sugar under control, I had to seriously change my eating habits and restrict carbohydrates, which meant counting carbs.
Use the Glycemic Index
Years later, learning about the glycemic index helped me understand which foods were likely to spike my blood sugar levels.
As a general rule of thumb, remove anything white from your diet, or simply eat less of it. That is, substitute a food with a low glycemic index (GI) for one with a high GI, such as swapping sweet potatoes (orange, with a low GI) for russet potatoes (white with a high GI).
The foods with lower GI take longer for your body to process into fuel (glucose) and therefore your blood sugar doesn't spike high to cause problems.
The Healthy Eating Plate Method Is So Easy!
According to the U.S. Centers for Disease Control and Prevention, "the plate method is a simple, visual way to make sure you get enough non-starchy vegetables and lean protein and limit the amount of higher-carb food that has the greatest potential to spike your blood sugar."
The "MyPlate" method of eating replaced the United States Department of Agriculture's "food pyramid" in June 2011, simplifying the recommended way to eat. I found it much easier to understand than any of the other diet recommendations. They even have an app you can download here.
Using a 10-to-12-inch plate, here's what you do:
Fill half your plate with fruits and non-starchy vegetables
Fill one-quarter of your plate with lean protein, like grilled chicken, fish, beans, or quinoa.
Fill one-quarter of your plate with grains or starchy vegetables, like half a sweet potato, half a cup of brown rice, or a piece of whole-grain bread.
Add a little fat (1 tablespoon of salad dressing or 1 teaspoon of butter or oil).
Add about a cup of dairy (such as low-fat milk).
RATE, PIN & SHARE!
Please Rate our recipes and posts, and Pin and Share them on social media. Comments are welcome, too!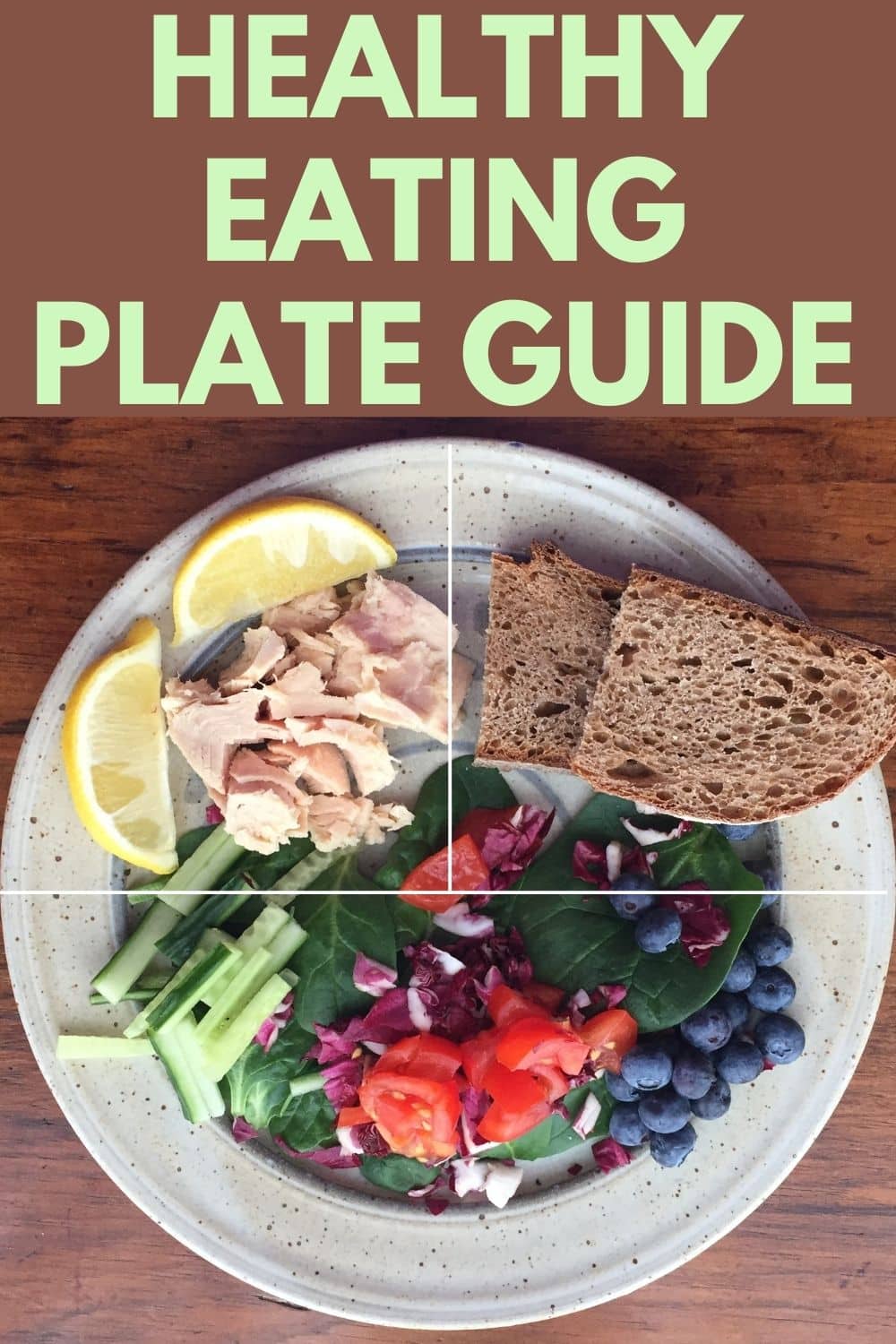 Disclaimer: The author is not a health professional or nutritionist. She is offering her research and personal reflections about her health journey and is not providing any type of medical or nutritional advice. This post is for informational purposes only. It is offered as a tool for people to discover their own suspected food allergies, intolerances, and sensitivities. Readers are highly encouraged to read, write, and reflect on the ideas presented. Consult your healthcare professional before initiating any dietary or exercise program.