Side dishes for Thanksgiving are what make the meal Thanksgiving, right? Green bean casserole, stuffing, mashed potatoes, sweet potato casserole, and cranberries, of course. I've got them all. I've even thrown in a couple of appetizers that you can serve while everyone's waiting for the turkey to cook. And speaking of turkey, in case you don't know how to cook a turkey. You can get the How to Cook a Turkey recipe, too.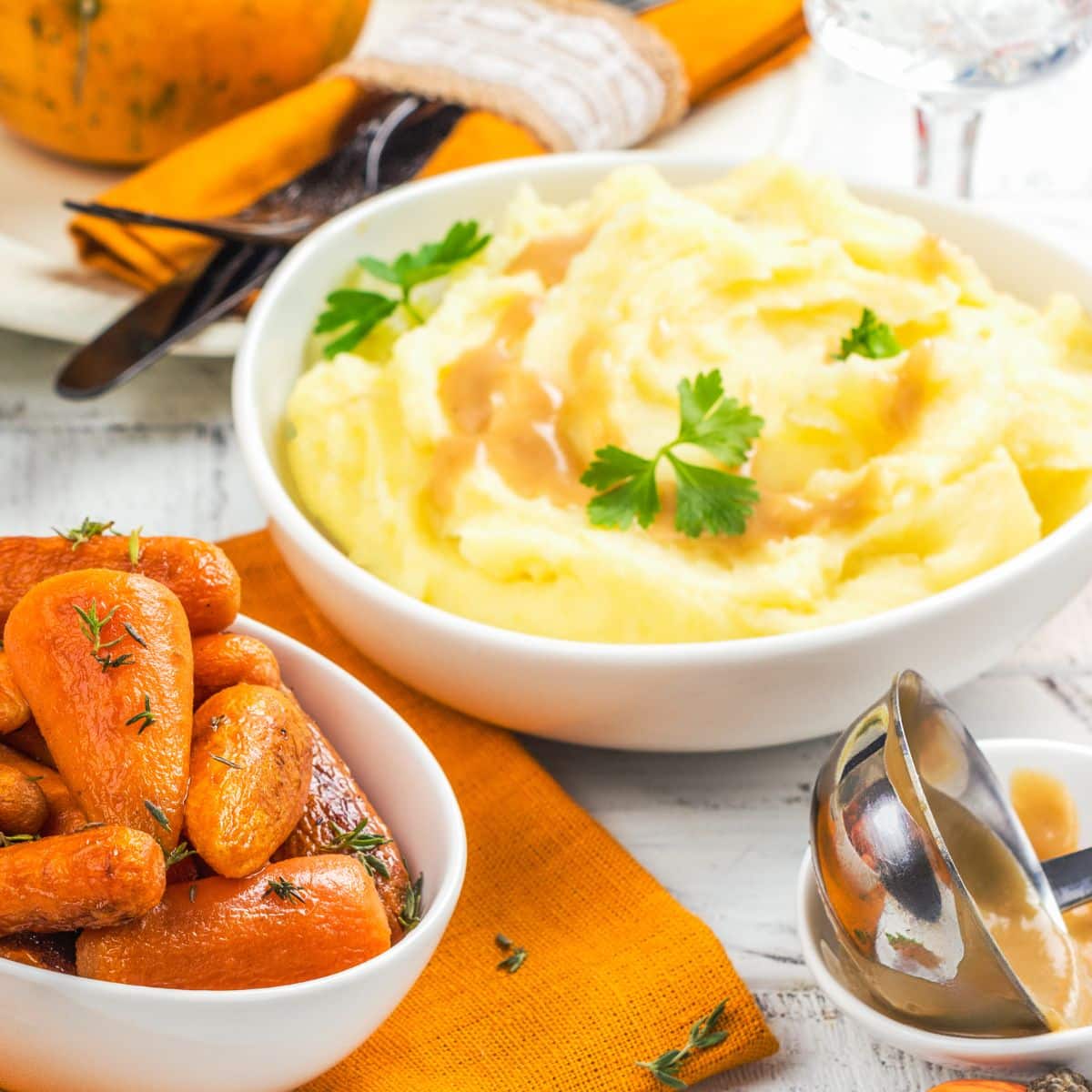 Best Side Dishes for The Thanksgiving Dinner
With Thanksgiving right around the corner, it's time to gather your best recipes. Let me help you out with my baker's dozen best side dishes for Thanksgiving. You'll find two appetizers, along with a vegan/gluten-free main dish salad, two kinds of dressing/stuffing, two green bean casseroles, and several other delicious side dishes. And the great thing about these recipes? Every one of them can be made ahead if necessary.
These Thanksgiving Fruit Salad recipes are also perfect after a heavy meal, and there are so many choices, everyone will find one they love.
Best Loved Appetizers
1. Knorr's spinach dip
Knorr's Spinach Dip is one of those recipes that has been around forever, and everyone loves it. Such a scrumptious appetizer! Spinach (frozen, chopped), water chestnuts, green onions, mayo, sour cream, and Knorr's dry vegetable soup. This dip is terrific on bread or crackers. It is an easy recipe that takes just 20 minutes. Make ahead and hide it in the back of the fridge or it will be gone before your dinner begins.
2. Deviled eggs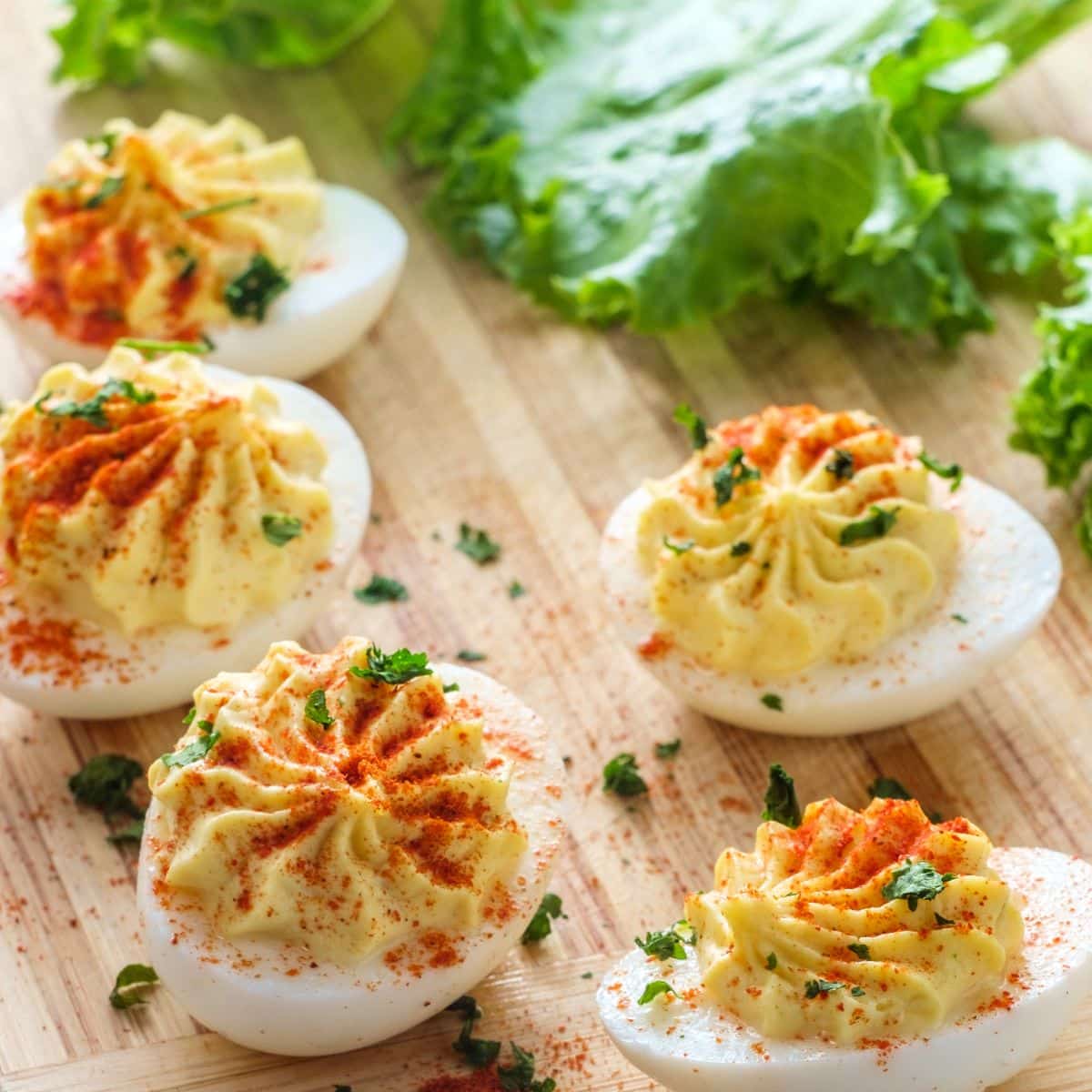 Deviled Eggs are super easy to make and just about everyone loves them. What a terrific appetizer for a holiday or party. You can make them ahead and refrigerate them a day or two before serving. All you need are eggs, mayo, salt, pepper, and your choice of pickle relish. I prefer dill. Don prefers sweet. Make some of each! Use a pastry bag to make them beautiful if you want, but really, they will be gone so quickly, it's not really necessary!
Vegetables
3. Southern green bean casserole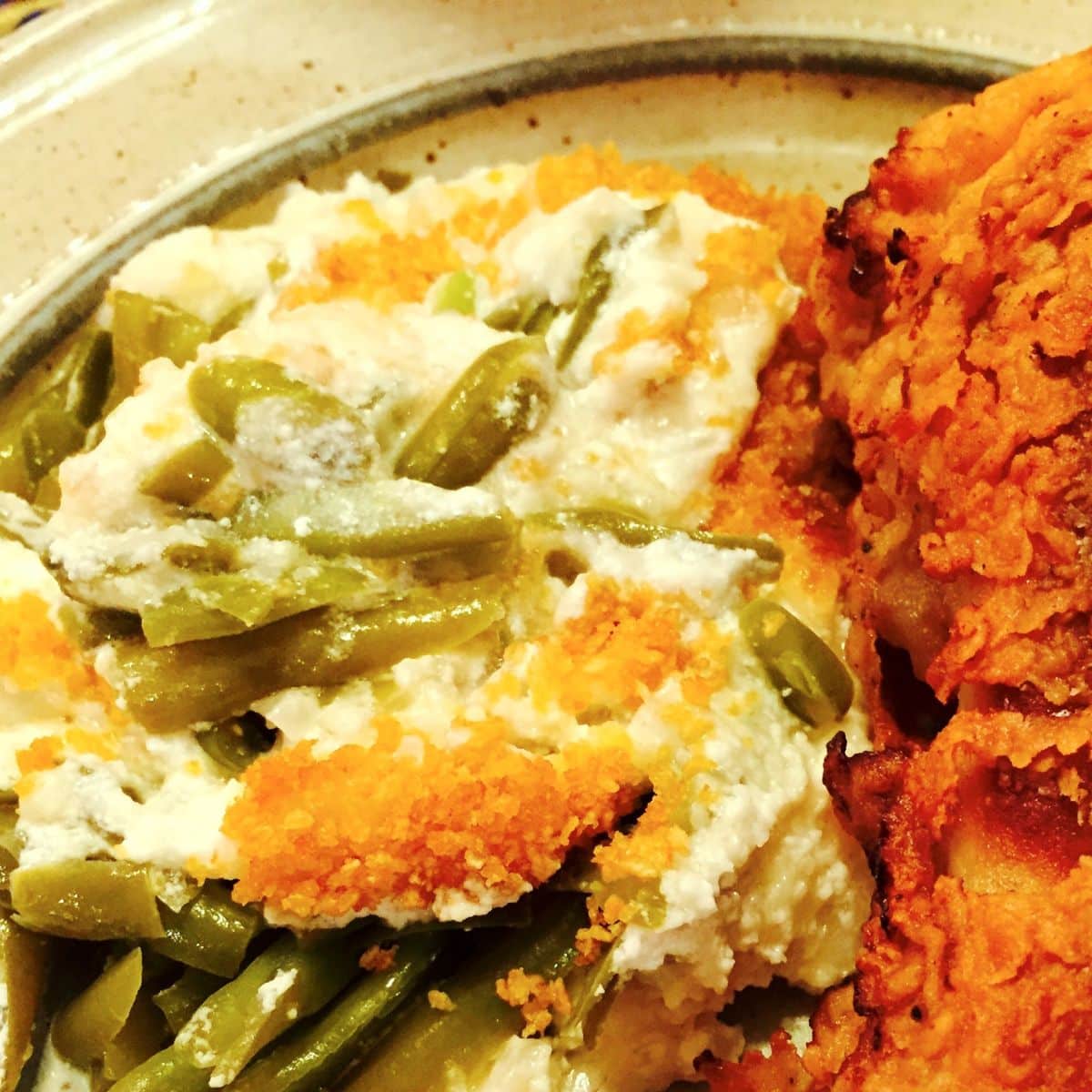 Southern Green Bean Casserole is a delightful recipe I learned from my mother-in-law, Momma Betty. It has cheese and sugar and loads of fat. But what the heck? Thanksgiving only comes once a year, right? Green beans, onions, sour cream, Swiss Cheese, sugar, butter, flour, and Cornflake crumbs. Pure deliciousness. And, more importantly, you can mix it up ahead, refrigerate it, and then pop it in the oven 45 minutes before you want to eat.
4. Northern Green Bean Casserole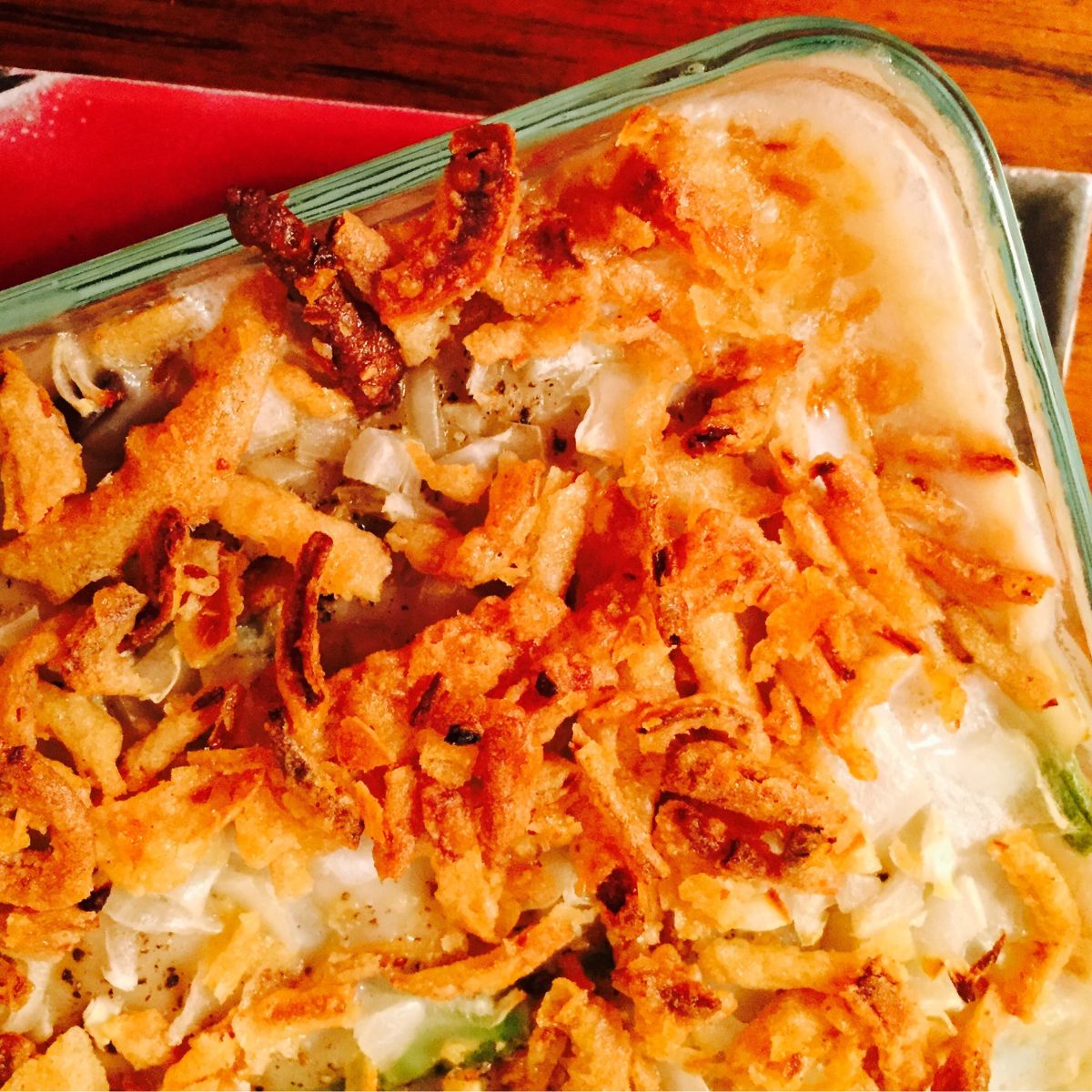 Northern Green Bean Casserole AKA Mushroom Green Bean Casserole is a national favorite in the United States. It was invented by a Campbell Soup employee in 1955 and has been popular ever since. And it's super easy. Just dump, stir, top with canned fried onions, and bake. Green beans (frozen, French cut are best), mushroom soup, onions, milk, and canned, French fried onions. It can be made ahead and baked 45 minutes before eating.
5. Brussels sprouts and carrots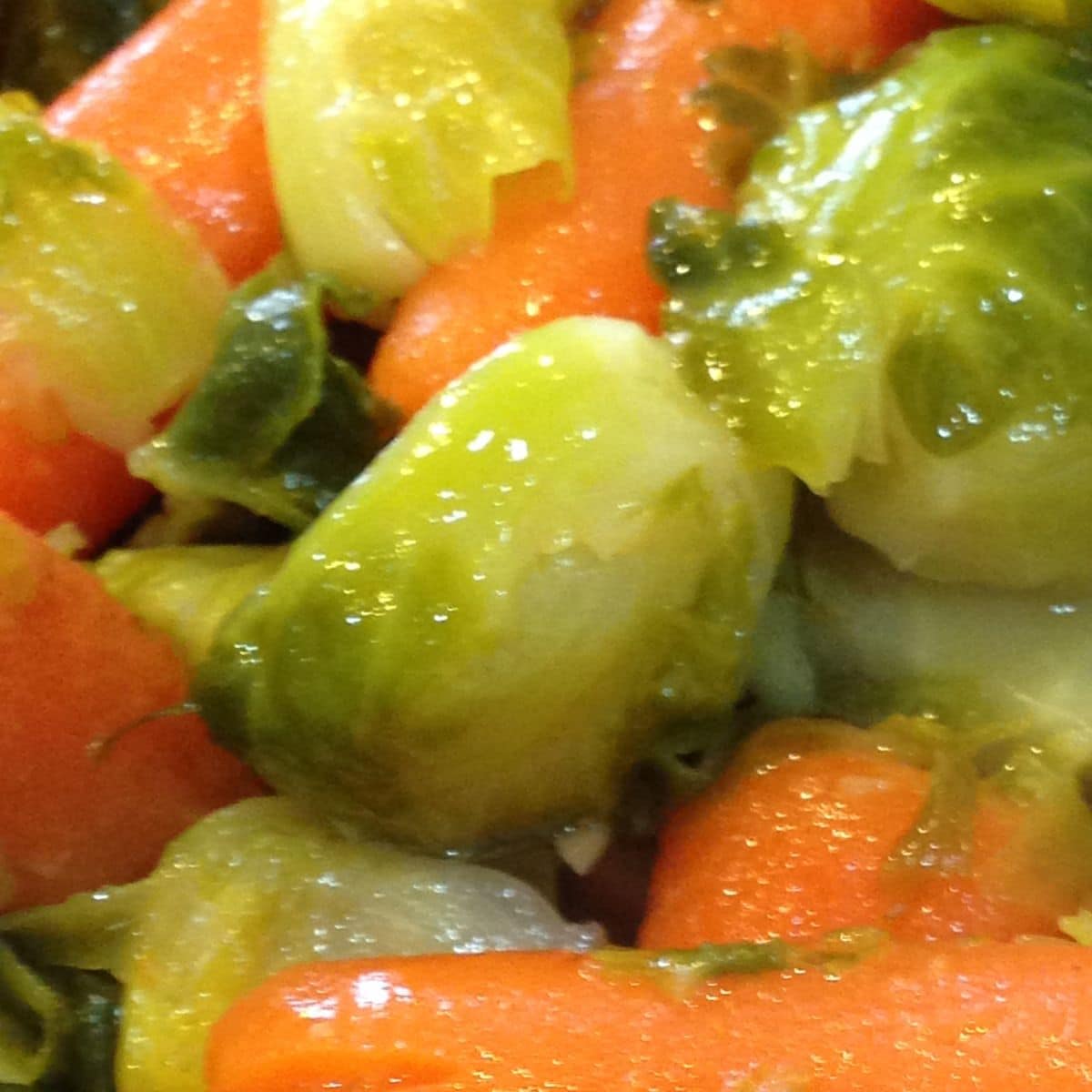 Even people who don't like Brussels Sprouts like these Brussels Sprouts and Carrots in Vinaigrette. It's super good and makes an excellent side dish for any occasion. It's light, tasty, and healthful with all those cancer-fighting properties.
Real comfort food with a healthy twist.
Brussels sprouts, carrots, canola oil (or olive oil), horseradish, dill, apple cider vinegar, and salt. It's the perfect side dish because it can be served hot, cold, or at room temperature! So, so tasty.
Best Stuffing Recipes
6. Traditional sage dressing (stuffing)
Traditional Sage Dressing (Stuffing) is the only kind of stuffing our kids eat. They love their traditions. We love our stuffing cooked right in the bird. It's juicier that way. Start with a packaged stuffing mix (I like Pepperidge Farm) and doctor it up with butter, onion, celery, eggs, water or chicken broth, and lots of sage. Oh, yum. I'm drooling. You can make it gluten-free by using gluten-free bread cubes.
7. Cornbread stuffing with dates, cranberries, and sausage​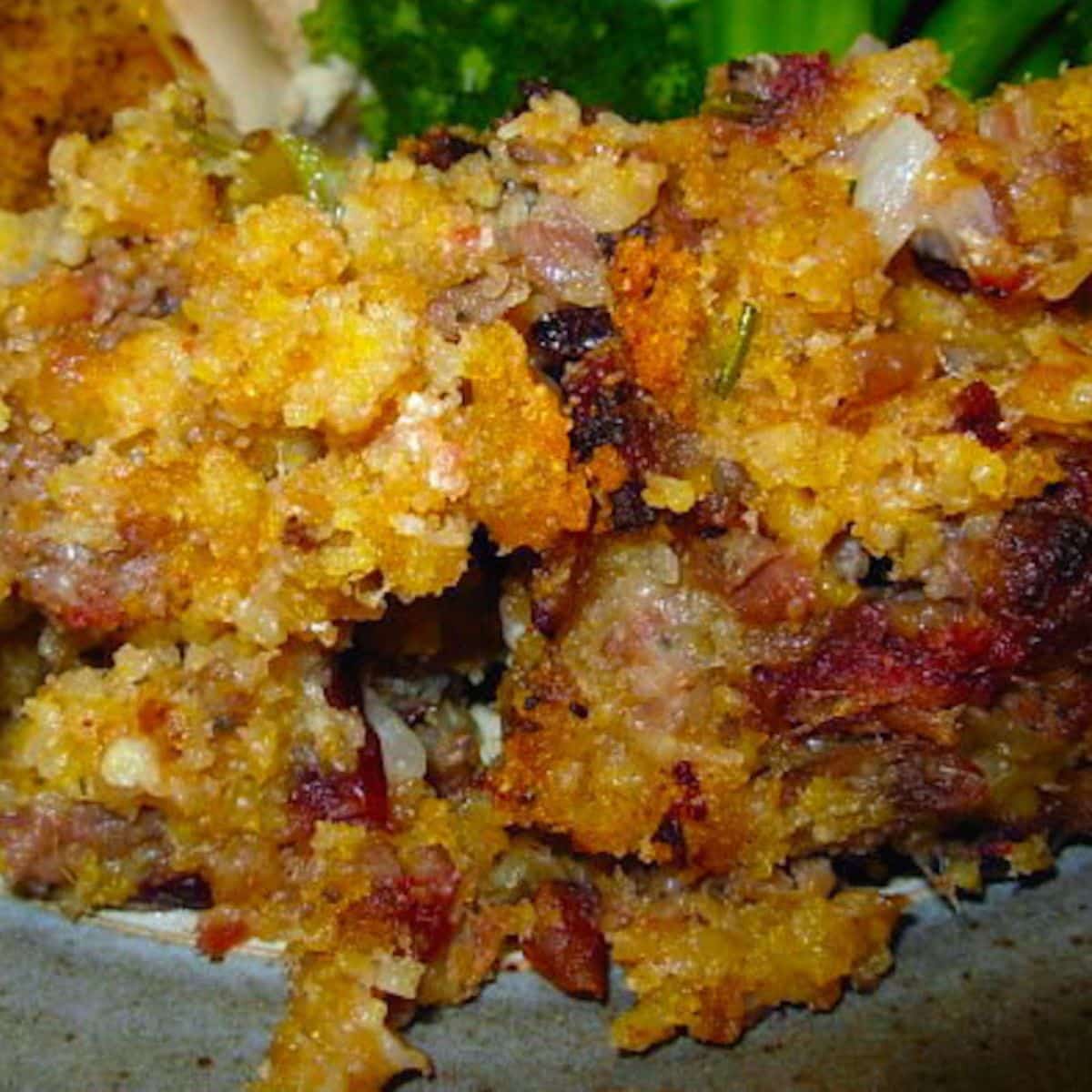 Cornbread Stuffing with Dates, Cranberries, and Sausage is a tasty alternative to traditional s​age ​stuffing. The cranberries and dates add a little sweetness; the sausage makes it hearty. Dates, cranberries, butter, onions, celery, sausage, rosemary, pine nuts, brandy (optional), chicken stock, eggs, and cornbread stuffing cubes or leftover cornbread. It's amazing.
Potatoes
8. ​Mashed potatoes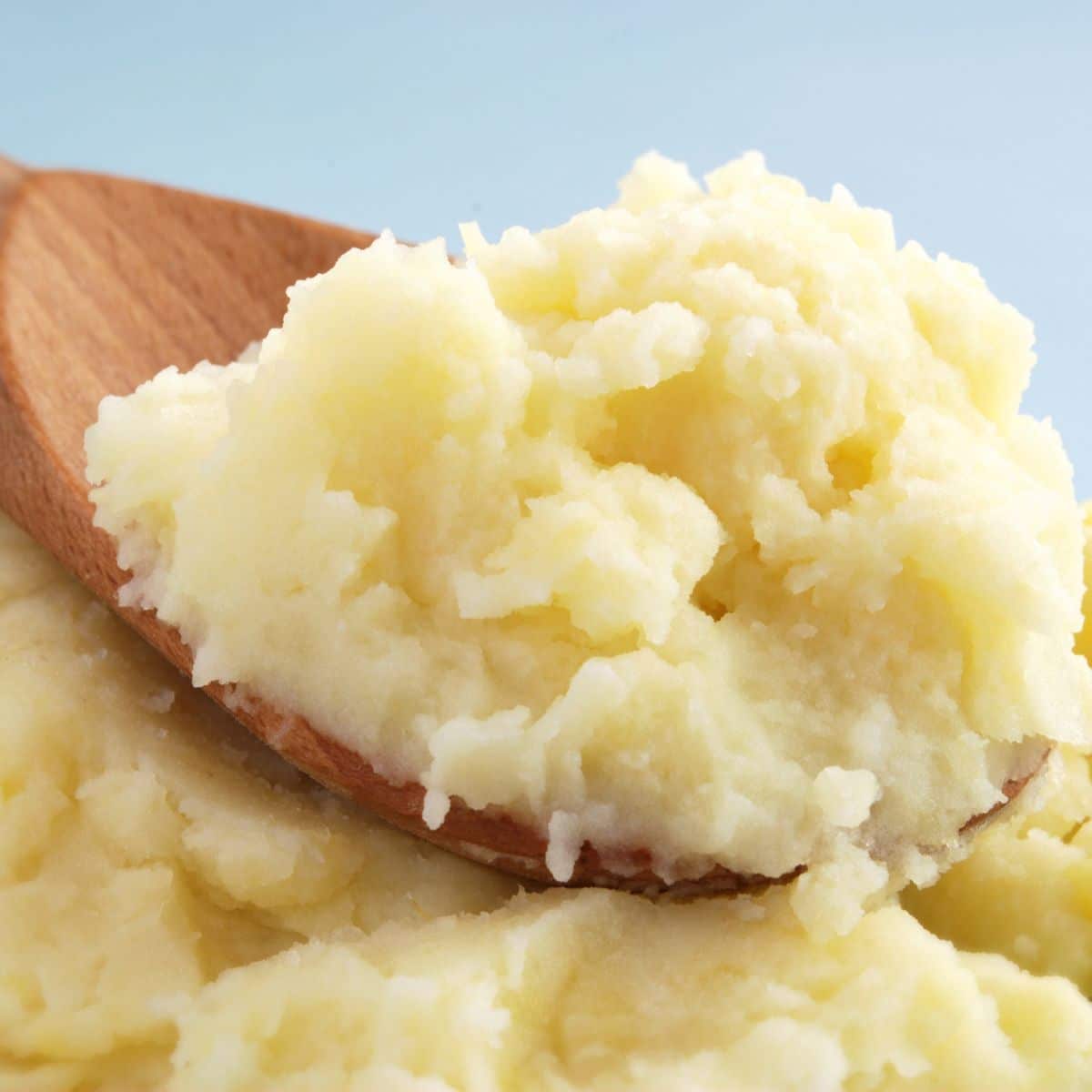 Mashed Potatoes are ​easy, especially with a potato ricer and a good hand mixer. But even if you don't have these tools, you can use a fork to mash them and a wire whip to whip them. You will just need more muscles. ​
When I make mashed potatoes for a large gathering, I make them earlier in the day, add a dollop of butter on the top, cover them with a paper towel, and right before we eat, I microwave them for about 2 or 3 minutes. This makes them a little smoother and nice and hot! Or, you can make them a day ahead and refrigerate them. Put them in the oven for about 45 minutes at 350 degrees right before you eat. All you need are potatoes, milk or chicken stock, butter, and salt and pepper.
9. Instant pot garlic mashed potatoes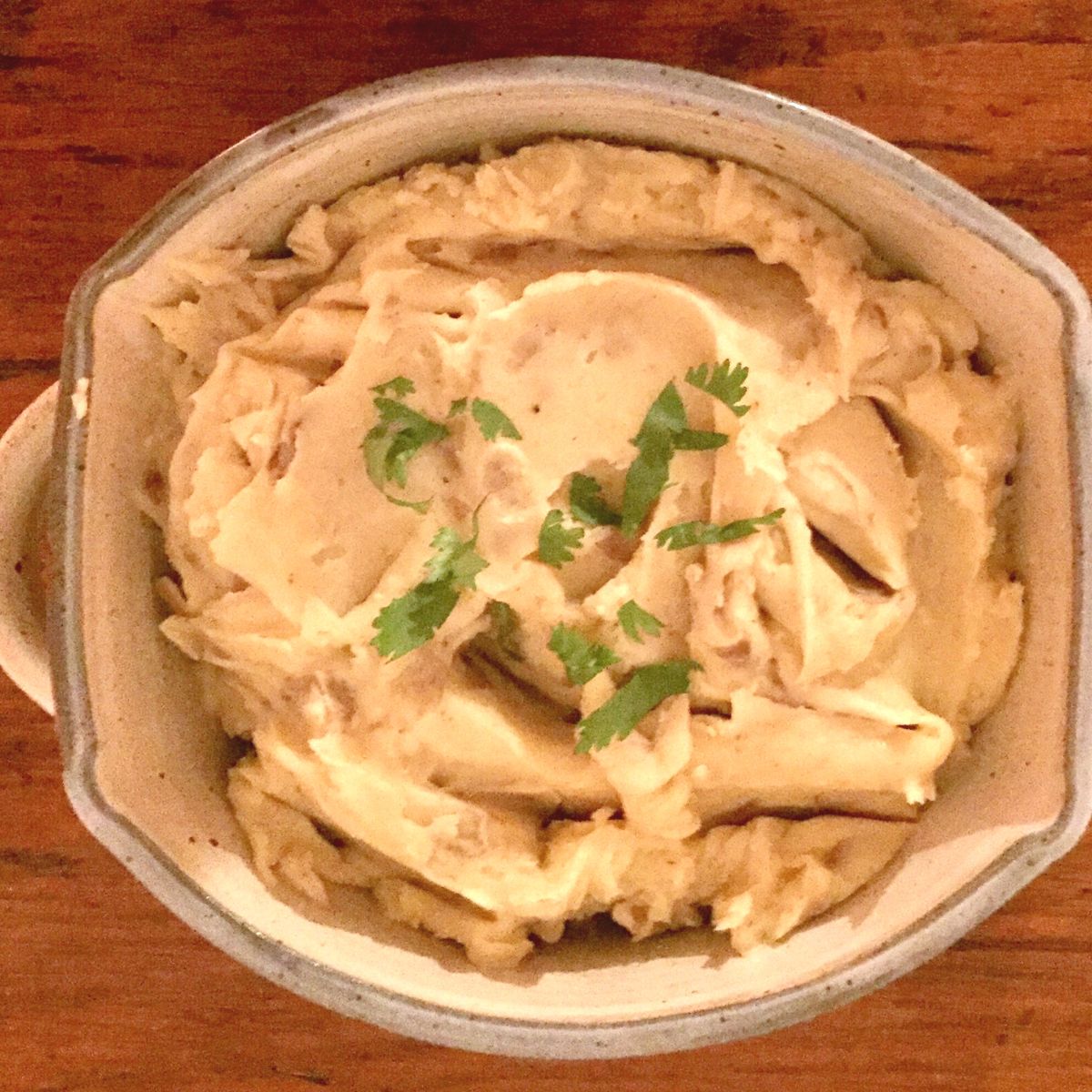 Best Instant Pot Garlic Mashed Potatoes Easy Recipe. Really. So. Easy. Creamy, garlic-infused, amazing homemade mashed potatoes. In 30 minutes. I like to use those tiny new potatoes. They can be any type. Wash and cut them if necessary so they are all the same size. Then stick them in the Instant Pot with 2 cups of water. High pressure for 12 minutes. And the potatoes will be done. Other ingredients are milk, butter, minced garlic, salt, and pepper. I use dairy-free milk (this one has tens of thousands of great reviews!) and it tastes just as good.
10: Sweet potatoes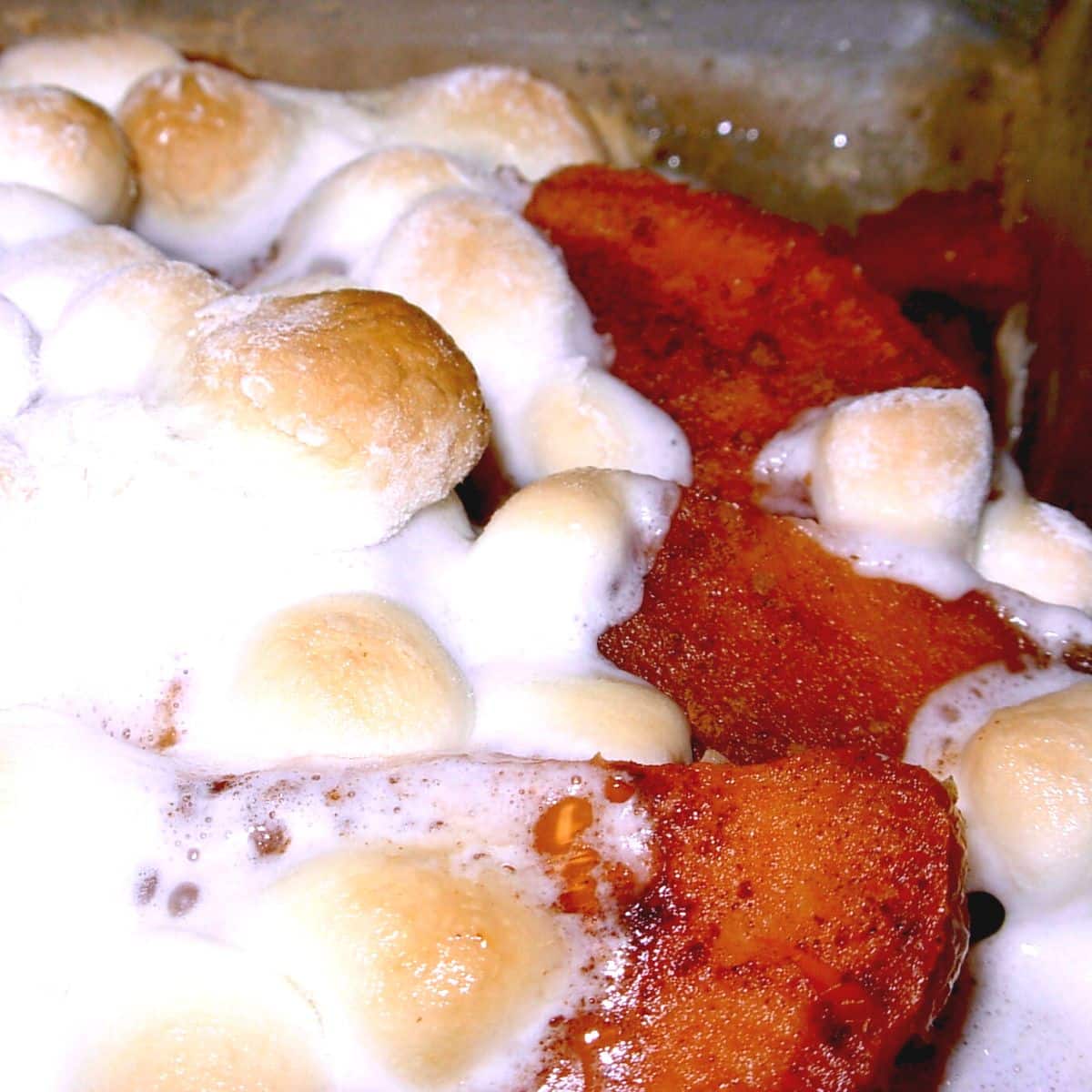 Candied Sweet Potato Casserole is a standard side dish on many tables for Thanksgiving. The kids love it, right? These Candied Sweet Potatoes are frequently requested for holiday meals, especially Thanksgiving. Does your family serve them?
This recipe is so simple, even a new cook can make it to rave results. The sweet potatoes are super sweet and the basic recipe has been around forever. I always start with fresh sweet potatoes because I think the canned ones are overcooked. So you need sweet potatoes, butter, sugar, and mini marshmallows. Bake the sweet potatoes ahead of time to make it really easy to make this casserole.
Salad & Sauce
11. Fruit cocktail salad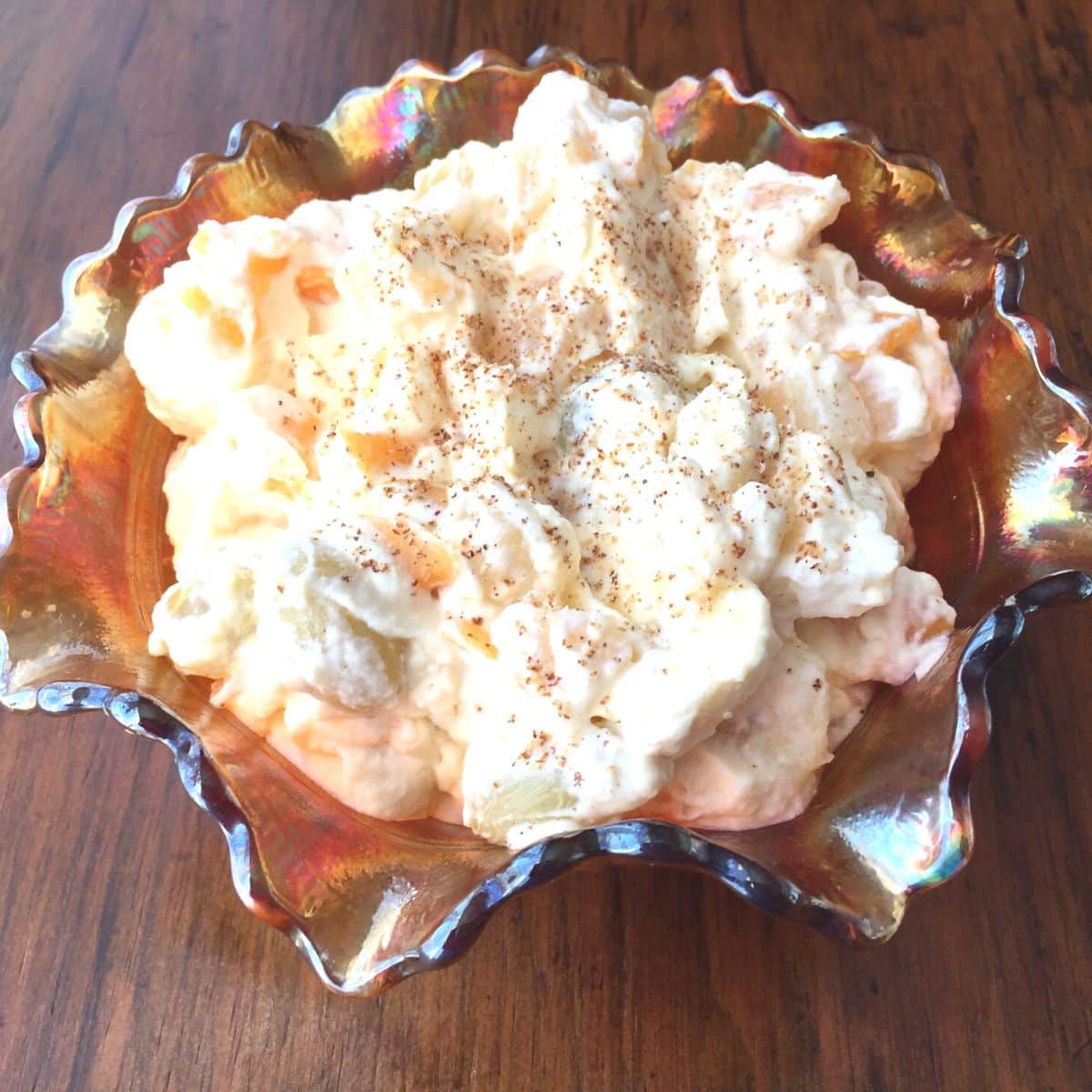 Holiday Fruit Cocktail Salad is so simple the kids can make it, and they love it. We've been eating this since the dawn of time in our family. Fruit cocktail, maraschino cherries, banana (optional), and whipped cream. ​
12. Jellied cranberry sauce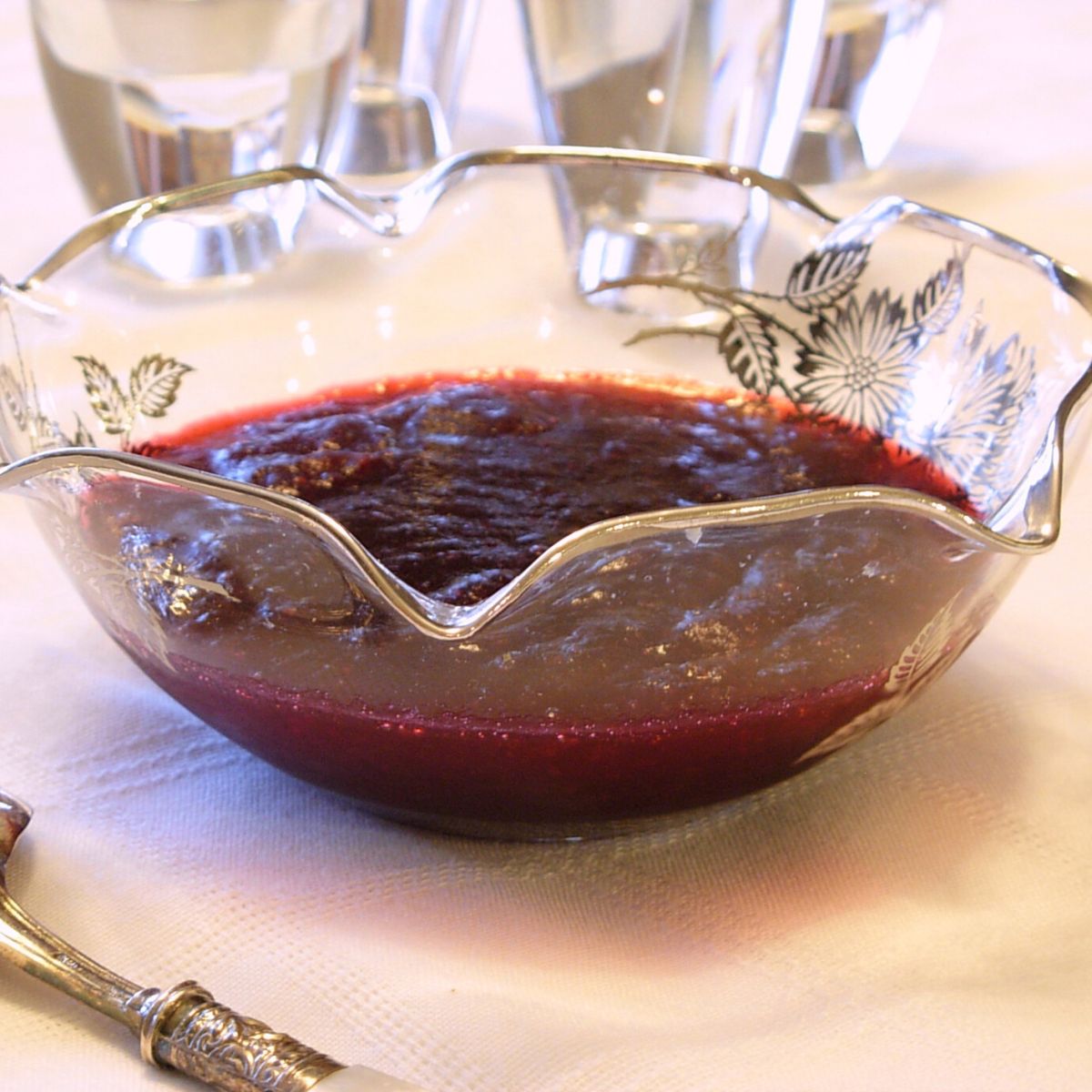 Jellied Cranberry Sauce Made With Fresh Whole Cranberries is scrumptious, with just the right amount of tang. And takes just 30 minutes (plus time to refrigerate). Make it the day before you need it and it's ready for your holiday dinner. It only needs four ingredients: cranberries, water, cinnamon sticks, and orange juice. Simple.
Vegan Side or Main Dish
13. Roasted butternut squash salad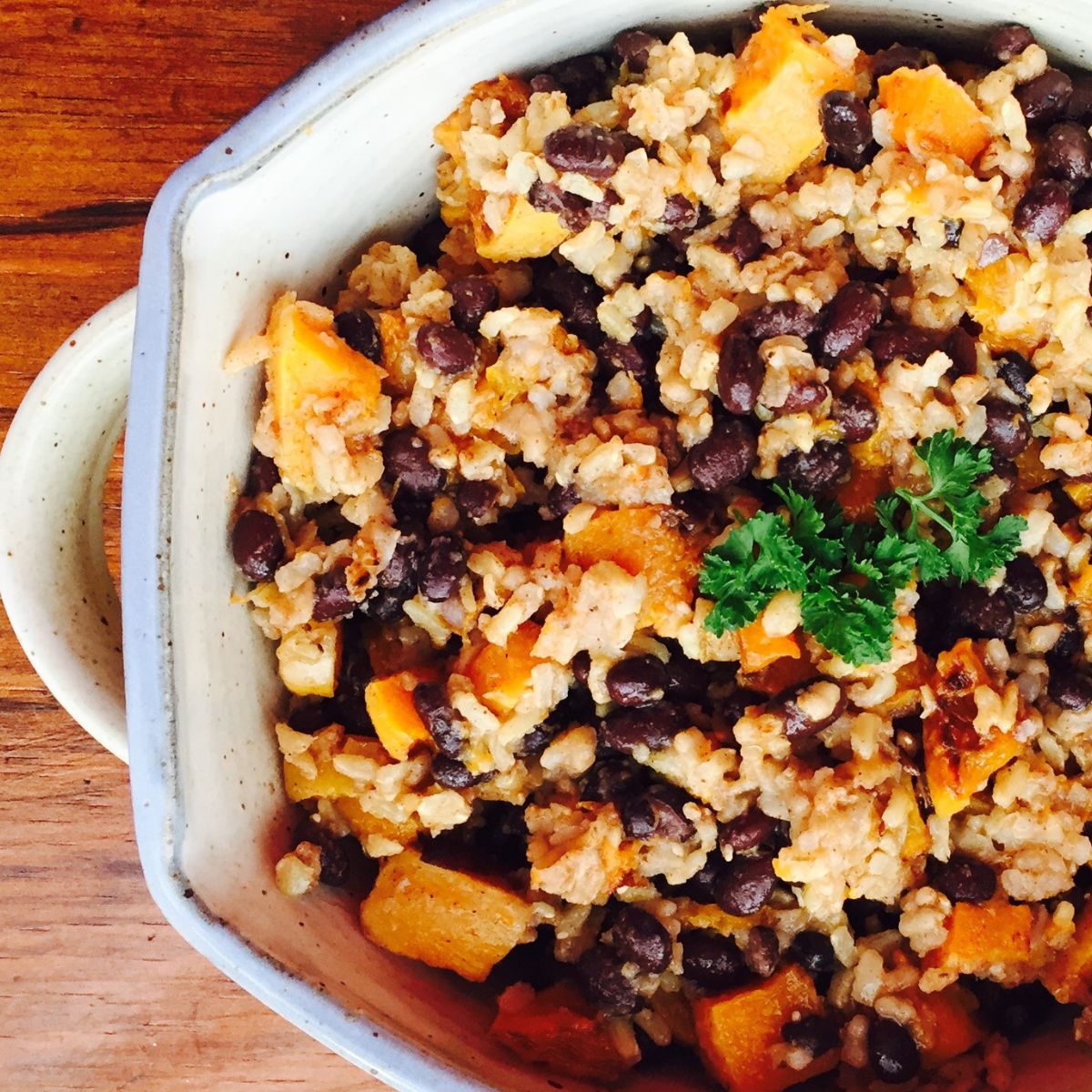 Savory Sweet Roasted Butternut Squash Rice Salad is scrumptious. You are gonna love it. It is sweet, savory, filling, and, surprisingly, vegan and gluten-free. And it's really good! Made with roasted butternut squash, brown rice, black beans, pine nuts, and six savory spices, it can be a delicious side dish or a main dish for your vegetarians.
Are you ready to start cooking?
Pin these amazing side dishes for Thanksgiving dinner recipes and start planning your best Thanksgiving dinner ever. You're welcome!
Oh, and if you have vegan guests this holiday season, check out these 50 delicious vegan side dishes for Thanksgiving. And if your church gets together to celebrate thanksgiving, here's a list of side dishes for the holiday potluck at church.