South Beach Cauliflower Surprise is one of my favorite ways to eat cauliflower. Who'da thunk cauliflower could taste like mashed potatoes?
South Beach Cauliflower Surprise is a low-carb delight.
When I was a kid, I might have liked this delicious side dish, South Beach Cauliflower Surprise, if they surprised me with it. But I hated cauliflower. No one ever served it raw, or mixed with butter, or grilled. It was always boiled to mush with almost no flavor. But it still smelled like cauliflower. I would sit there all night and never eat it. They finally gave up and never served it to me again.
So I was definitely surprised when I found this recipe in the South Beach Diet Cookbook (affiliate link) in the Phase 1 recipes. I admit I wasn't overjoyed to try it. But the first time Don and I did the South Beach Diet, we followed it strictly to the letter, and it was on the menu. So we made it and it was terrific. Not only that, it's simple. Steam or boil the cauliflower until tender. Drain well. Add butter or butter substitute, salt, pepper and some half and half. Whip it up like potatoes.
The recipes in the South Beach cookbook are really good. Several of them made it into our regular menu rotation. Despite being a "white" vegetable, cauliflower is good for you. It's low calorie, low carb, filled with good vitamins and minerals, such as magnesium, calcium, iron, zinc, potassium, some of the B vitamins, and more.
What You Need
You need a knife, cutting board, measuring cups and spoons, a vegetable steamer or pot, and food processor (affiliate link). And a pretty bowl or serving dish, of course.
South Beach Cauliflower Surprise Recipe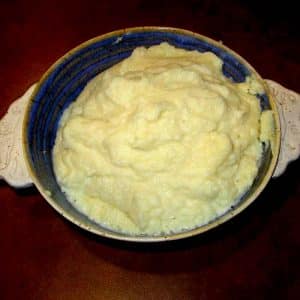 South Beach Cauliflower Surprise
Mashed cauliflower that tastes like mashed potatoes.
Ingredients
4

cups

cauliflower florets

2

tablespoons

Smart Balance

or butter

2

tablespoons

Fat Free Half and Half

Salt to taste

I use about ½ teaspoon

¼

teaspoon

black pepper
Instructions
Steam the cauliflower until it is soft but not mushy.

Drain the cauliflower well. It helps to pat it dry with a towel.

Put the cooked cauliflower, butter substitute (or butter), half and half, salt and pepper in a food processor and puree until it has the texture of mashed potatoes.

Serve hot.
Recipe Nutrition Information
This recipe is GF, NF, SF, EF, CF (use sea salt), V*
The information shown is an estimate provided by an online nutrition calculator. It should not be considered a substitute for a professional nutritionist's advice.
You May Like These Recipes & Posts From Recipe Idea Shop
RATE, PIN & SHARE!
Please Rate our recipes and posts, and Pin and Share them on social media. Comments are welcome, too!
*Allergen Key
GF = Gluten free | DF = Dairy free | NF = Nut free | SF = Soy free | EF = Egg free | CF = Corn free | V = Vegetarian | VG = Vegan
Note: If you have serious allergies or sensitivities, to be considered free of these allergens, you need to use products specifically marked "gluten free," etc. There can be cross-contamination in facilities.
This recipe was originally posted on Recipe Idea Shop October 28, 2015 and updated March 25, 2021.