Wonder what to eat with salmon? Due to its nutritional benefits, salmon is one of the best sources of protein, vitamin B, omega-3 fatty acids, selenium, and potassium. Not only is this rich, buttery fish good for you, but it tastes fantastic, especially with the right additions.
Salmon pairs well with many flavors and side dishes, from fruits and vegetables to various grains. Unsmoked salmon is mild in flavor, making it highly versatile and perfect for countless different cuisines. Smoked salmon tastes saltier and smokier but also pairs well with many ingredients.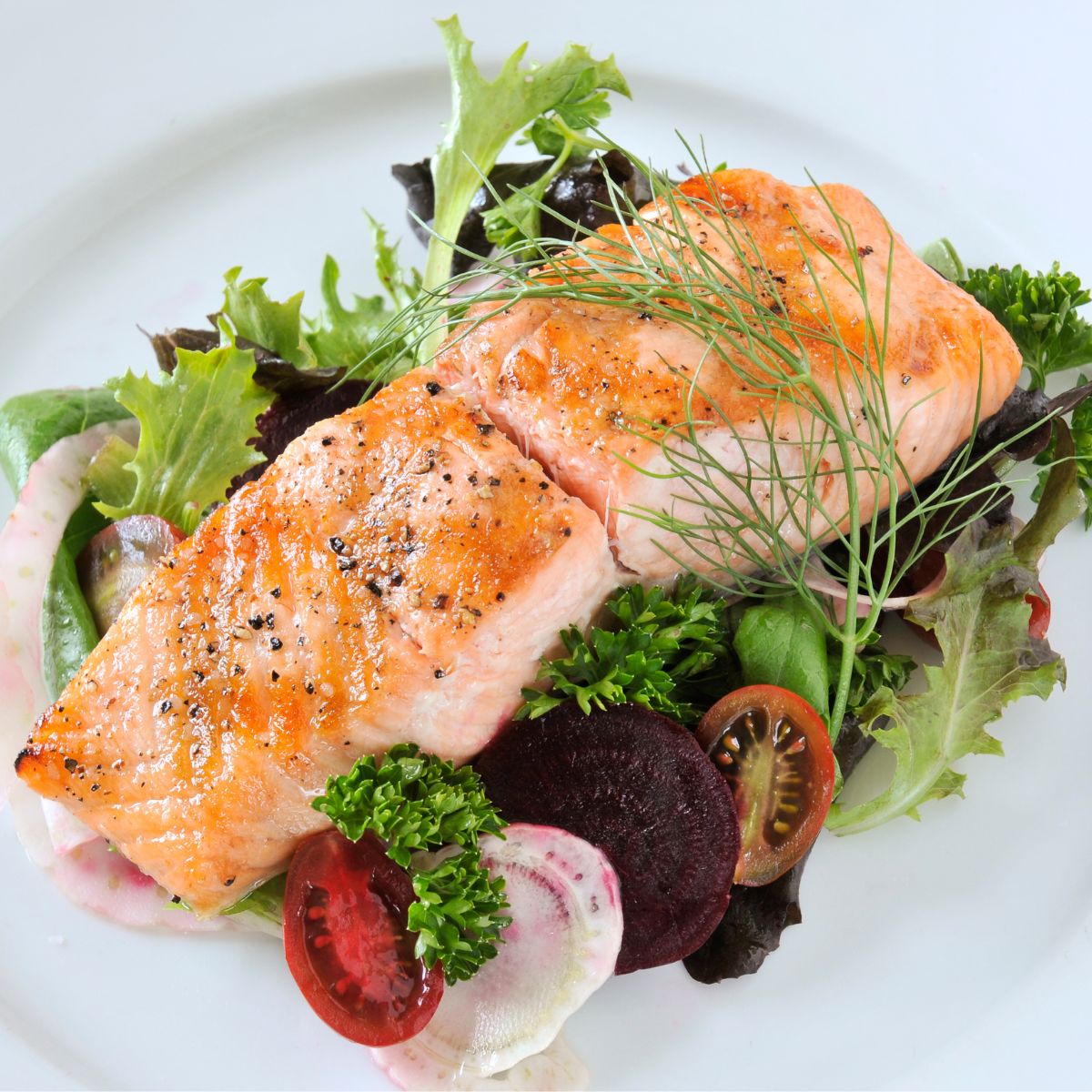 With its rich and oily taste, you can eat salmon in many different ways: raw in sushi, smoked, baked, roasted, poached, or deep-fried. Regardless of your preferred cooking method, your star protein will need the perfect flavors and side dishes to make it shine even more.
Which Flavors Pair Well With Salmon?
Flavor pairing is when you match foods with the same flavor compounds, which is worth thinking about when you are eating or preparing salmon. Knowing which flavor combinations work best with salmon will take your dish (and your tasting experience) to the next level.
If you are preparing a meal with salmon, the first thing you should decide is which flavor to add to the salmon itself or as part of a side item. The most common flavors are salty, sweet, sour, smoky, creamy, pungent, and herby. You can use these flavors as the base of a sauce, marinade, glaze, or side dish you wish to serve with your salmon.
Salty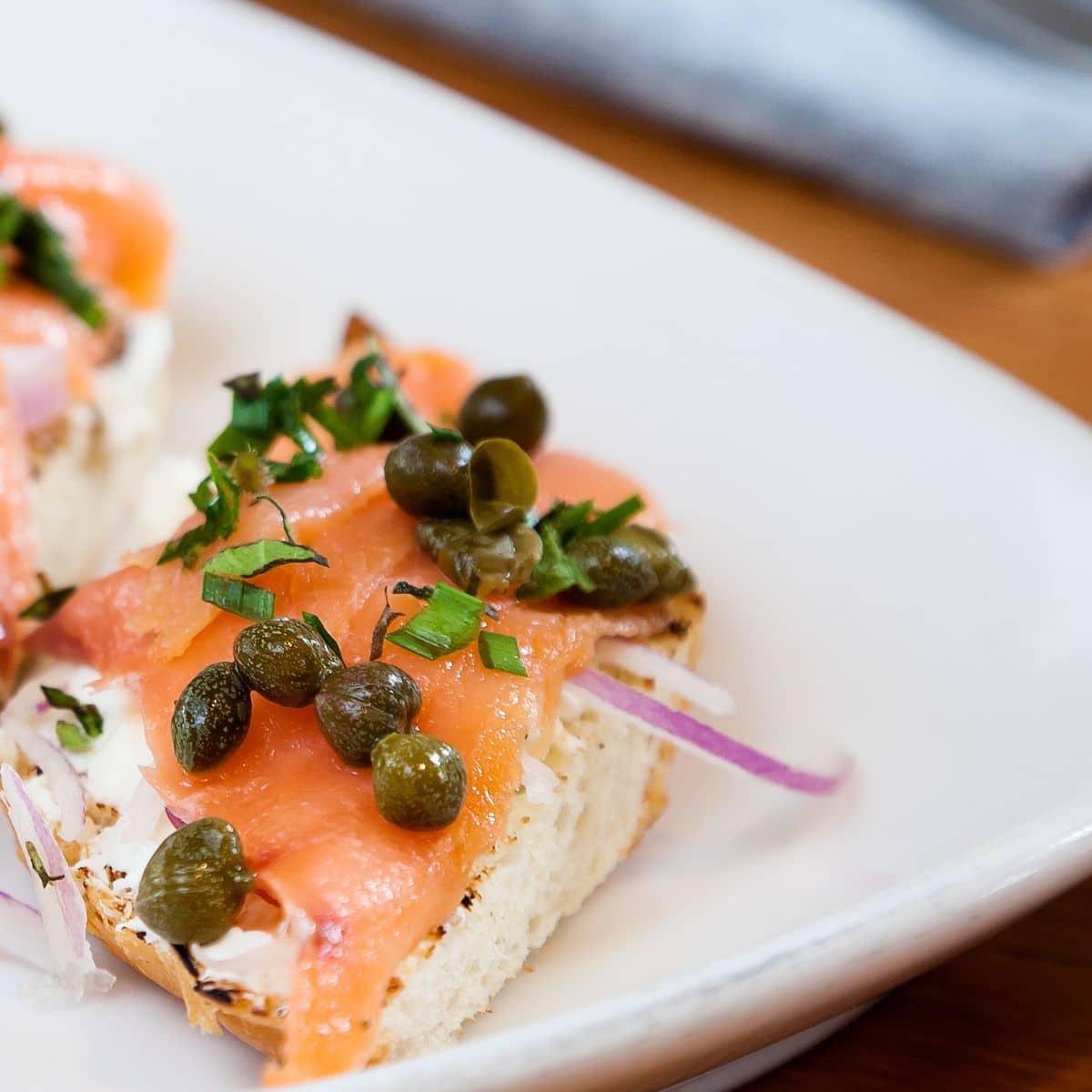 If your preference is a salty flavor with your salmon, you can prepare the perfect accompaniment by using products such as:
soy sauce
capers
miso
olives
Sweet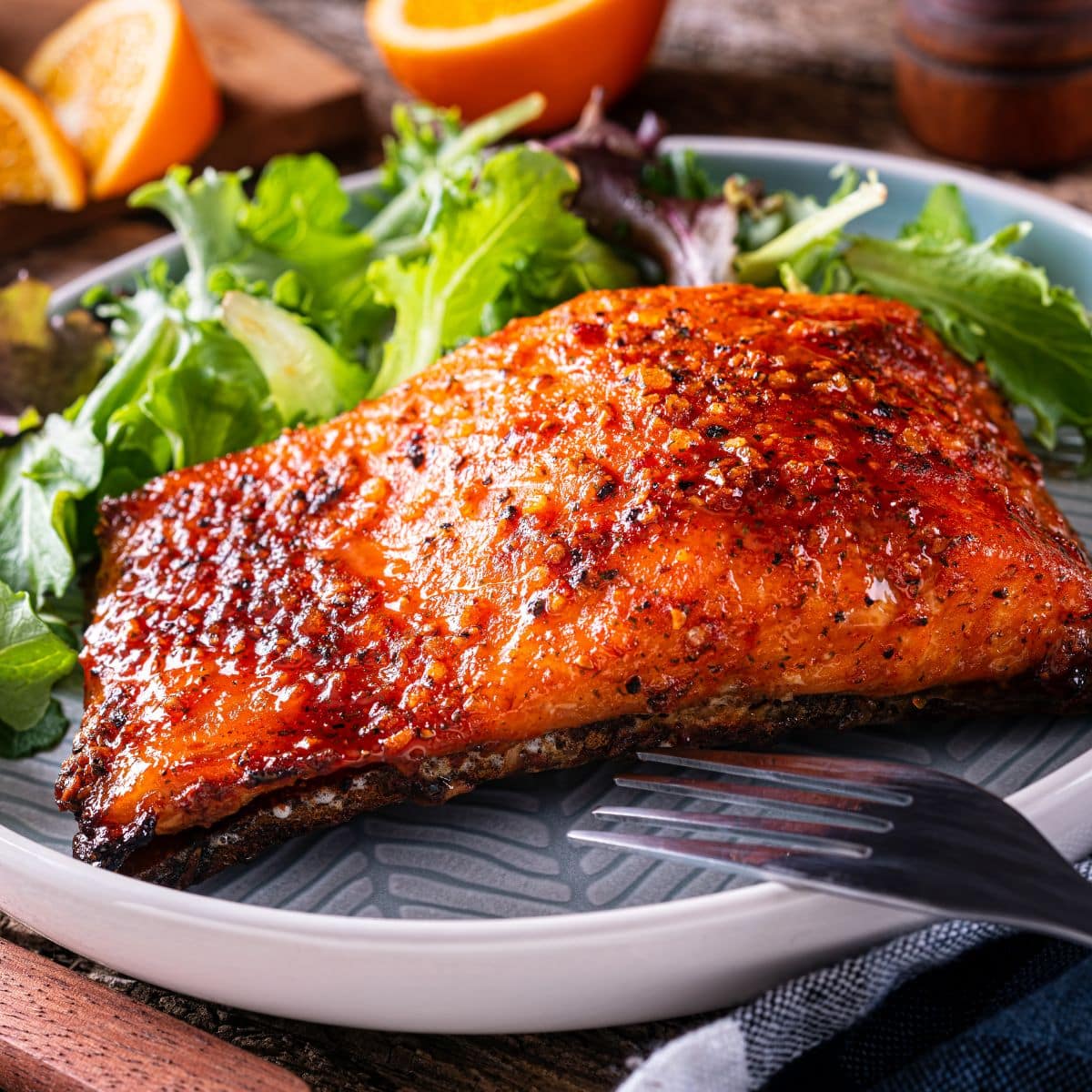 If a sweet taste is what you are after in your dish, you should turn to ingredients like:
honey
brown sugar
maple syrup
orange juice or zest
Try this sweet bourbon salmon: YUM!
Sour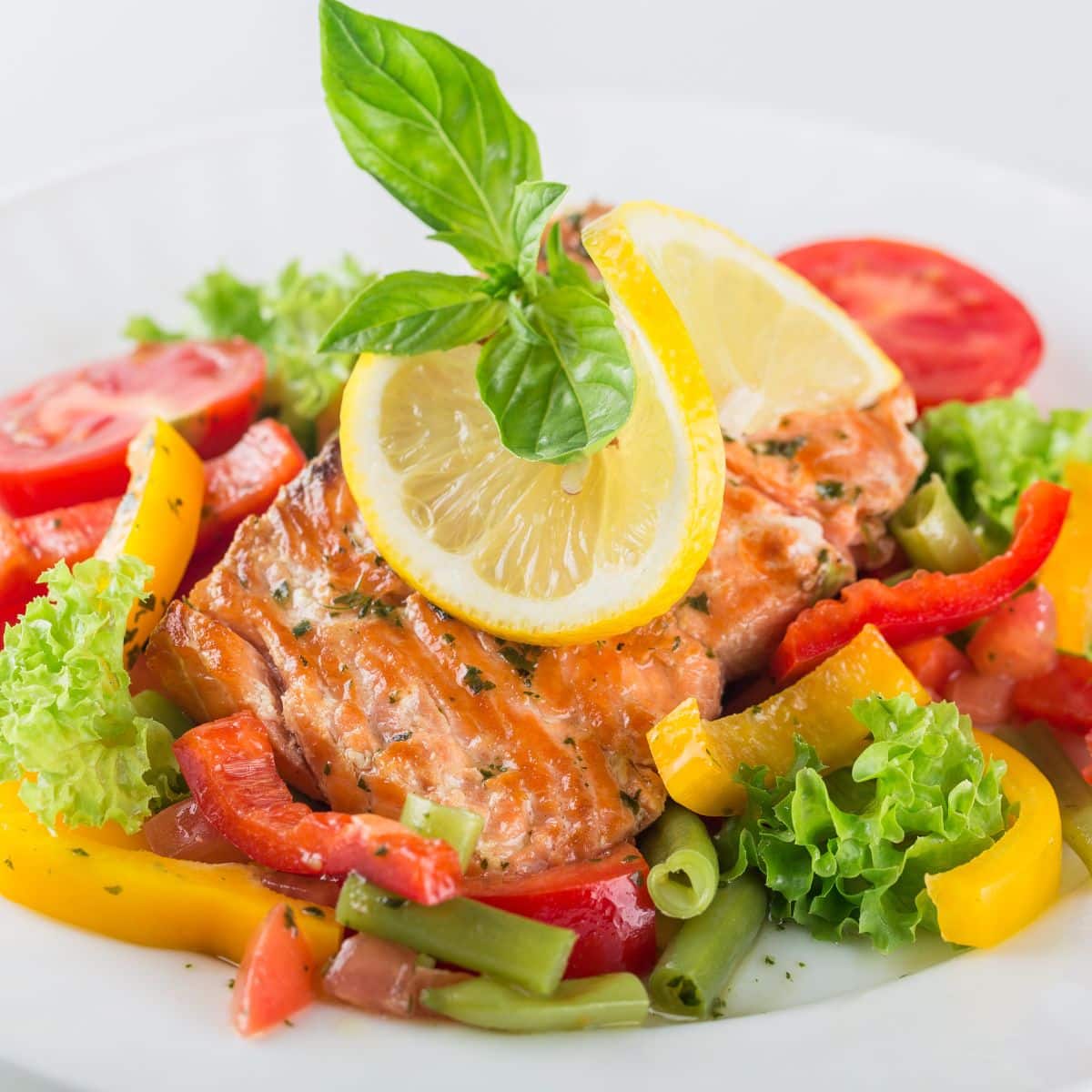 Ingredients that provide an acidic taste to salmon also have the function of curing the flesh. Preparing salmon, or any other fish, in this manner is called ceviche. For this purpose or to add a sour flavor to your salmon dish, opt for:
fresh lemon (lemon zest and lemon juice are great too!)

fresh lime
vinegar
This South Beach lemon garlic grilled salmon takes only 12 minutes to make and you'll love it!
Smoky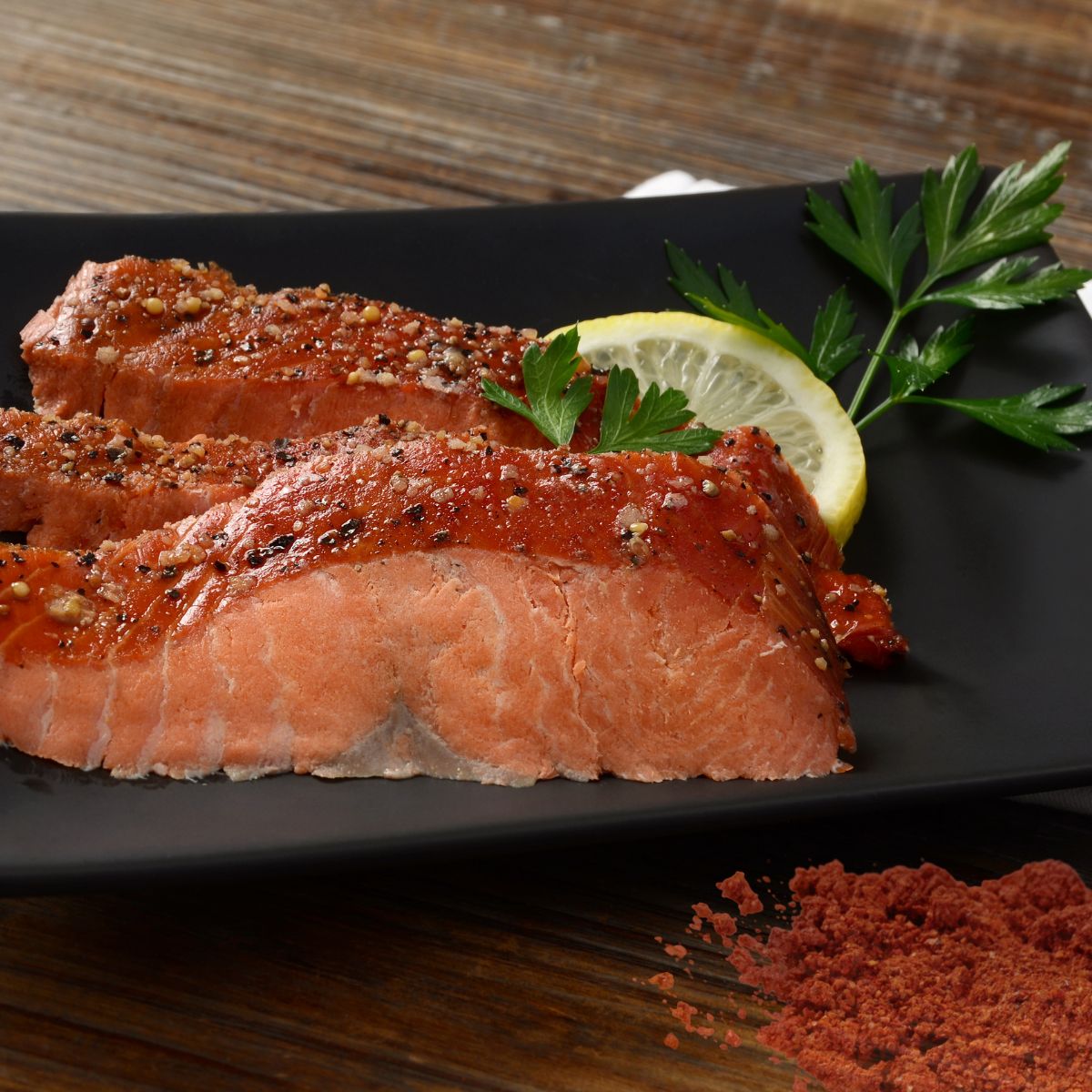 For a smoky flavor, either as a dry spice or in a liquid pairing, you can use:
This smoked salmon frittata is simple to make and soo good!
Creamy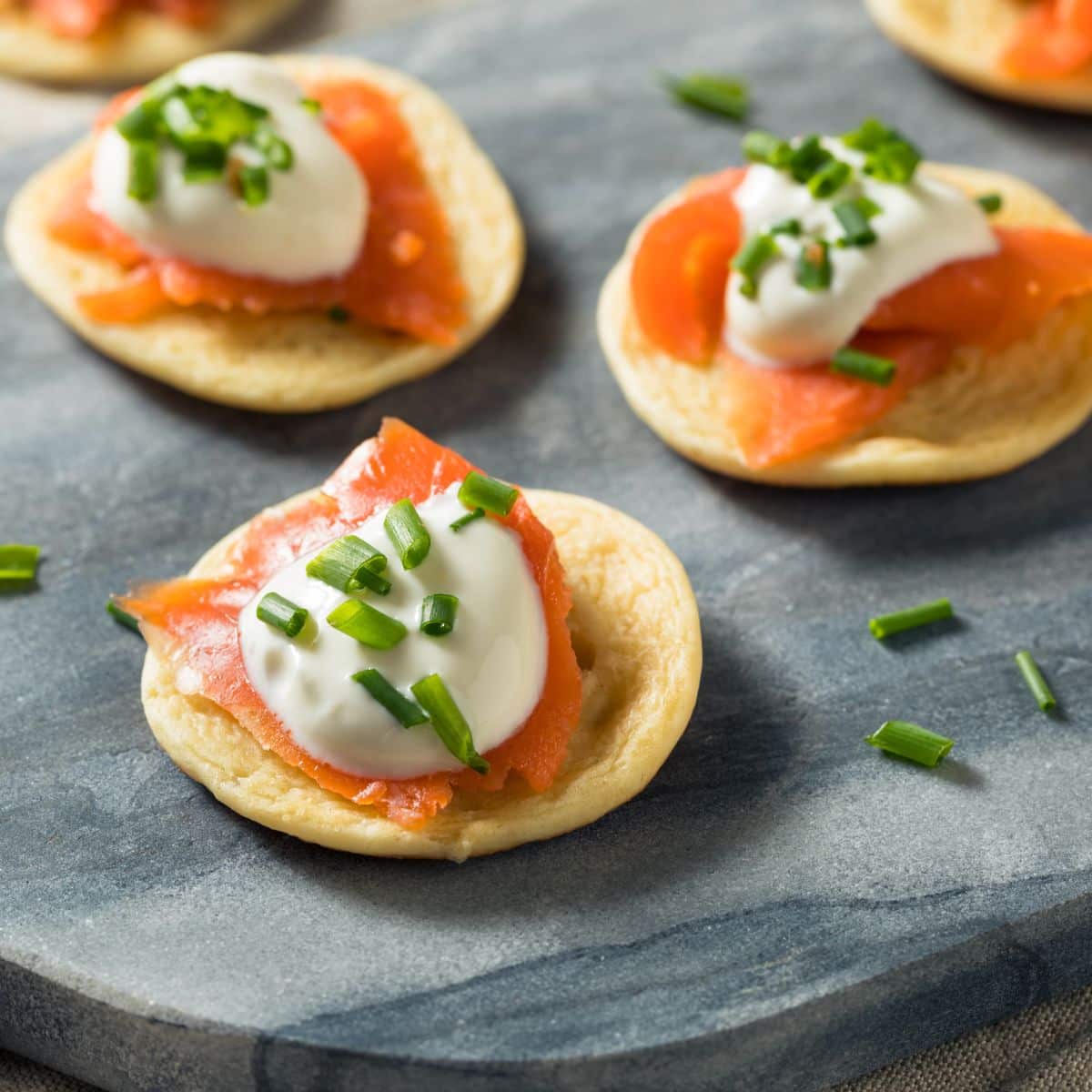 Creamy pairings with salmon are subtle but delicious and work best if you use dairy products such as:
cream cheese
yogurt
crème fraîche
butter
Try my smoked salmon in cream sauce.
Pungent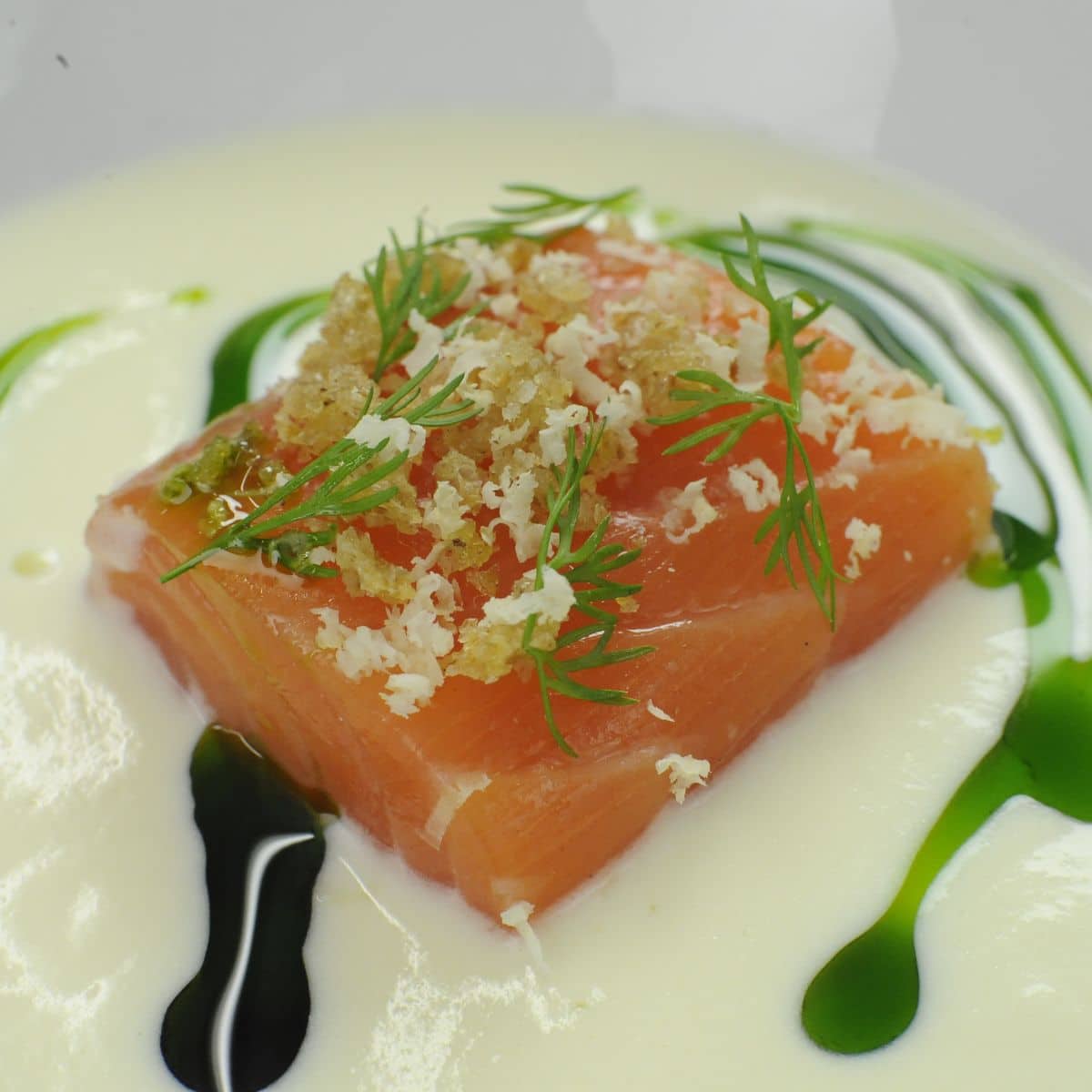 Pungent flavors are sharp and strong in taste and smell – the opposite of the flavor you get from salmon. This contrast makes for an exciting combination, and you can achieve it by using
onion
shallot
garlic
ginger
horseradish
sesame paste
Herby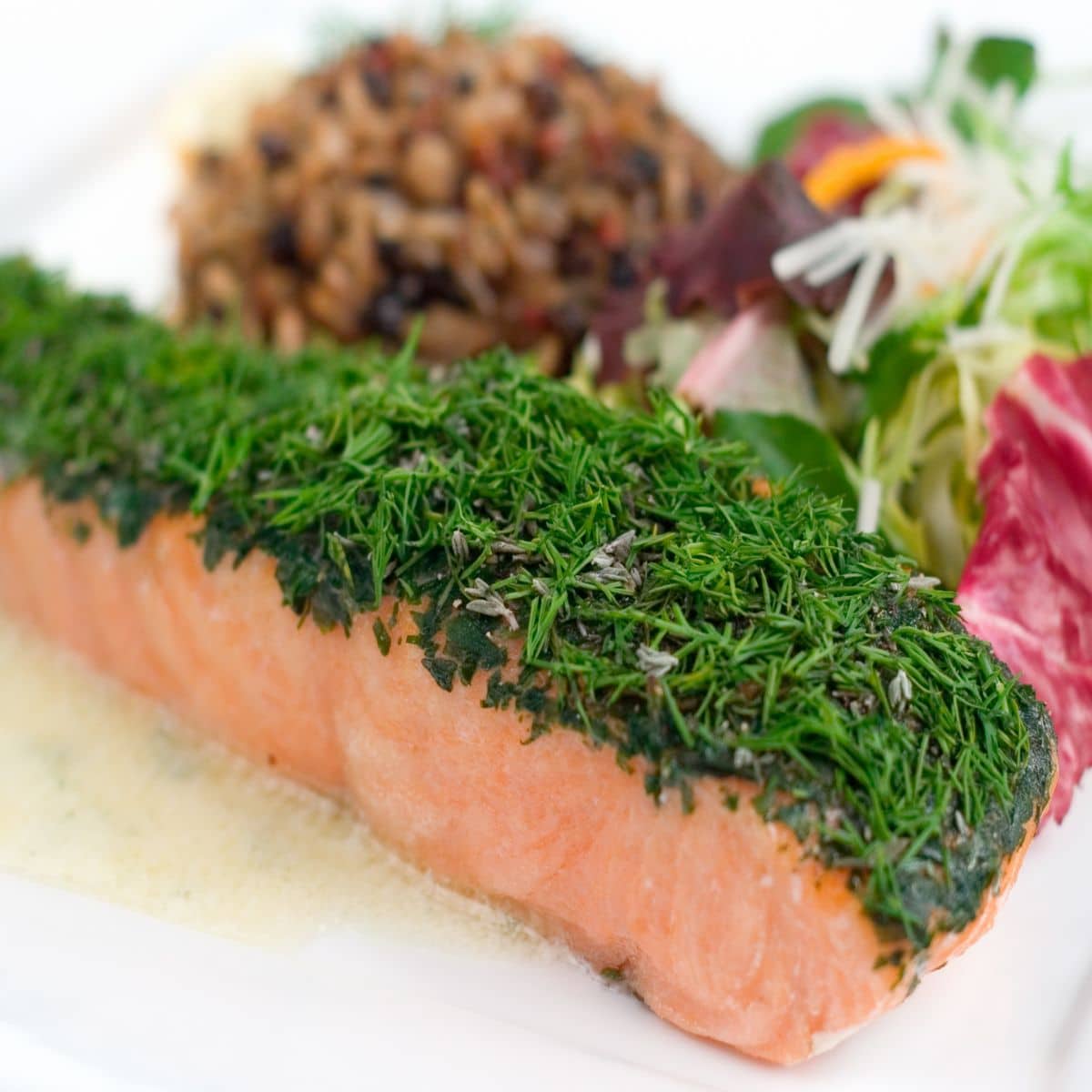 Fresh herbs are another alternative to pair with fish, especially in sauces and marinades. The best herbs that will complement salmon are:
Best Salmon Side Dishes
Whether you call it a side dish, side order, side item, or simply a side, this food item plays a significant part as an addition to the main ingredient of a dish. Thinking carefully about the flavor combinations you want to achieve with your salmon will help you decide on the perfect side dish to prepare and eat with this delicious fish.
Salads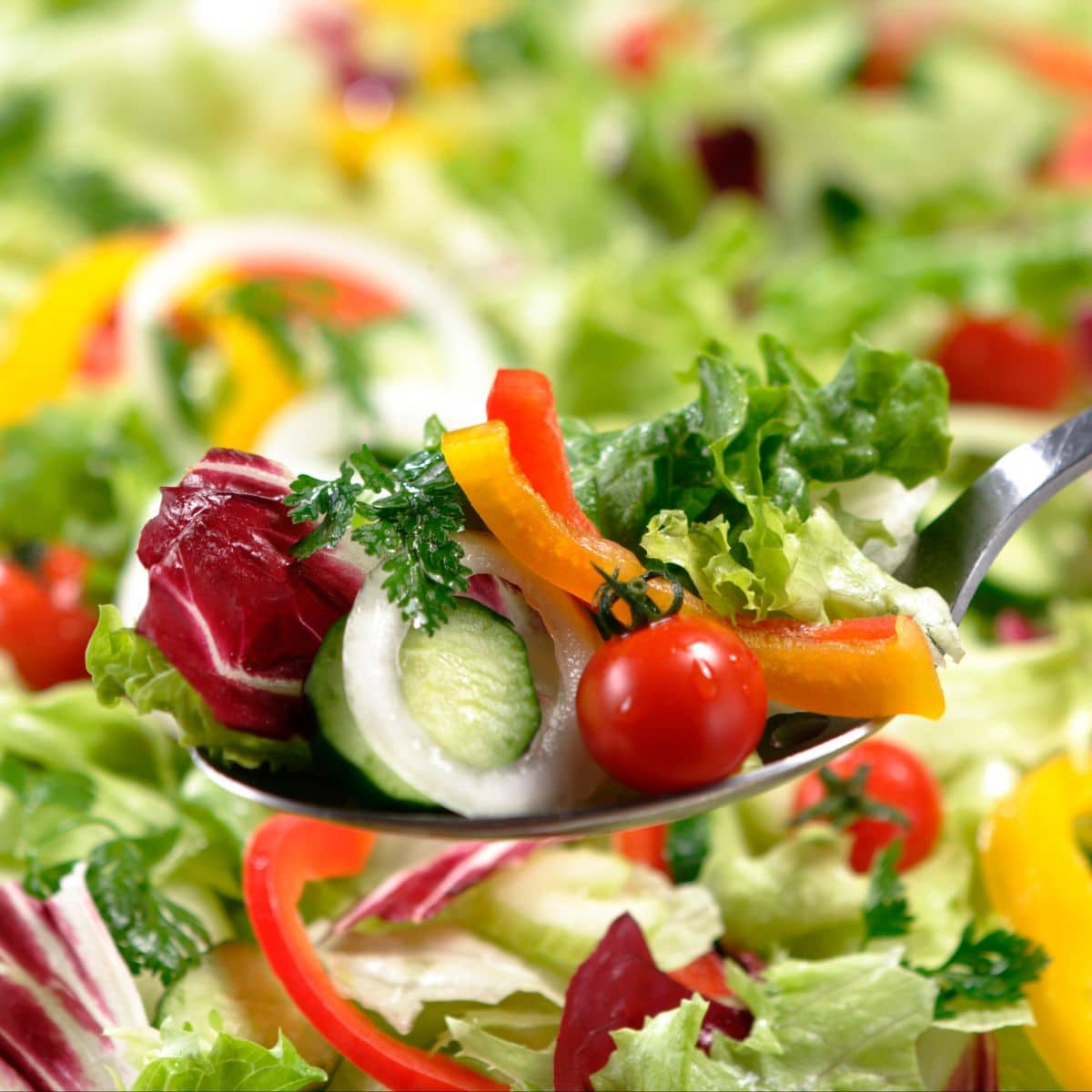 There is nothing like a fresh, crisp salad alongside your salmon on a hot summer's day – or any day of the year for that matter! Some popular salad ingredients that pair well with salmon are leafy greens, mild avocado and cucumber, sweet mango or pineapple, and acidic tomatoes.
Considering the specific flavor profiles will help you decide which ingredients to include in your salad. You can also use the flavors as a guide when making a sauce or a dressing. Some examples of the perfect salads to eat with your salmon include:
Vegetables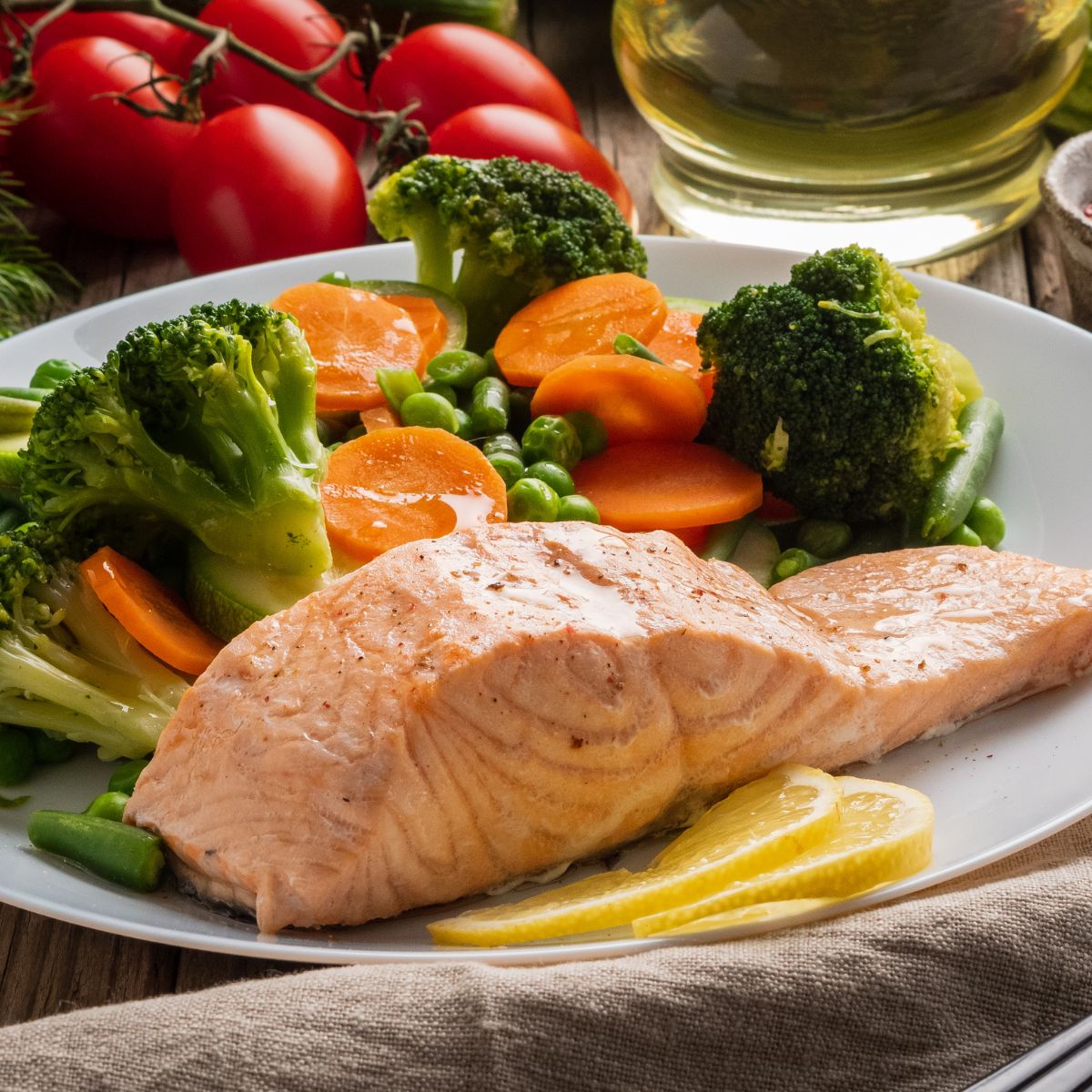 Vegetables are a healthy and tasty side dish that goes well with just about any protein, including salmon. Served at room temperature or hot, it can round off a perfectly balanced meal. The most popular vegetable to serve with salmon is the humble potato. Many different potato-based side dishes will work with salmon, including:
Some other vegetables that deserve an honorable mention will have to be green beans, asparagus, sprouts, carrots, corn, zucchini, broccoli, and mushrooms. Your dish will do well paired with some of these delicious sides:
Grains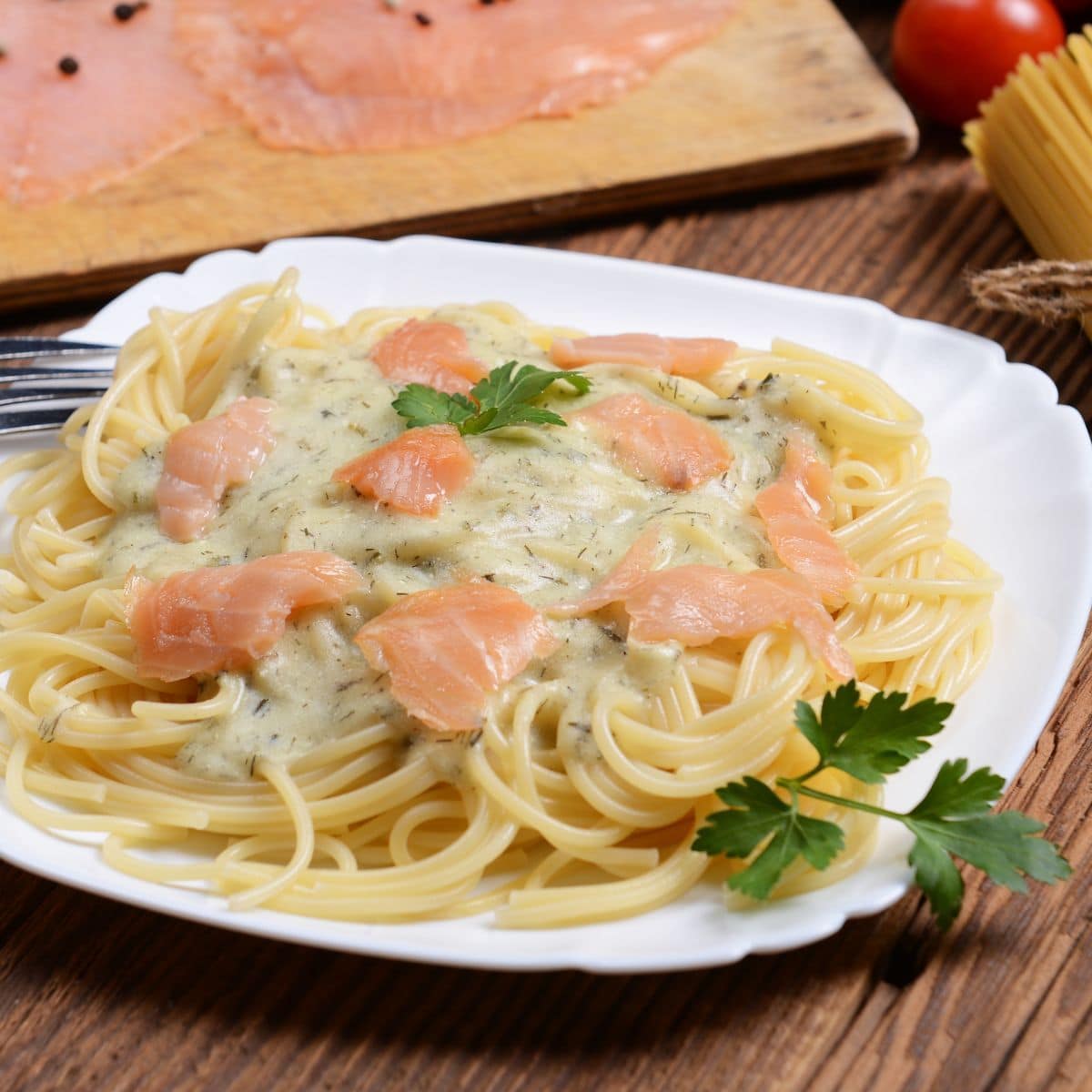 Grains are what most people refer to as carbs. It is food made from wheat, rice, oats, cornmeal, barley, or other cereal grains. The most common grains that some of us consume daily are bread, pasta, rice, and breakfast cereals. Other grains include grits, tortillas, popcorn, and oatmeal.
Pasta and rice are the most popular grain side dishes to serve with salmon. Not only do these grains pair well with salmon, but it is also very versatile. You can add practically any flavor and ingredient to these grains to enhance salmon's rich, mild taste. Some of the best pasta dishes with salmon include:
Buttery lemon pasta
Pesto penne pasta
Creamy garlic pasta
Mac'n cheese (yes, it works!)
If you prefer rice dishes rather than pasta, then you can't go wrong with:
Final Thoughts On What To Eat With Salmon
Salmon is a healthy, tasty, and versatile fish that can easily feature in your breakfast, lunch, or supper. It is also the type of fish that can be the star of a quick and easy weeknight dinner or a celebratory meal on a special occasion. Matching it with great side dishes can be a valuable skill in your arsenal.
However, it's easy to come up short when deciding what to eat with salmon – not because you are limited in flavors or ingredients to pair with this rich-tasting fish, but because the options are endless. If unsure, it is always best to keep it simple: Start by choosing your favorite flavor and incorporating it with 2-3 easily prepared ingredients as a side dish.