Fall is a synonym for soup in my vocabulary. It starts to get cold, and I think soup. What's better than soup, bread and a salad for dinner at this time of year? I can't think of anything. Here are 35 best fall soup recipes you and your family are sure to love. And many of them take about 30 minutes to make.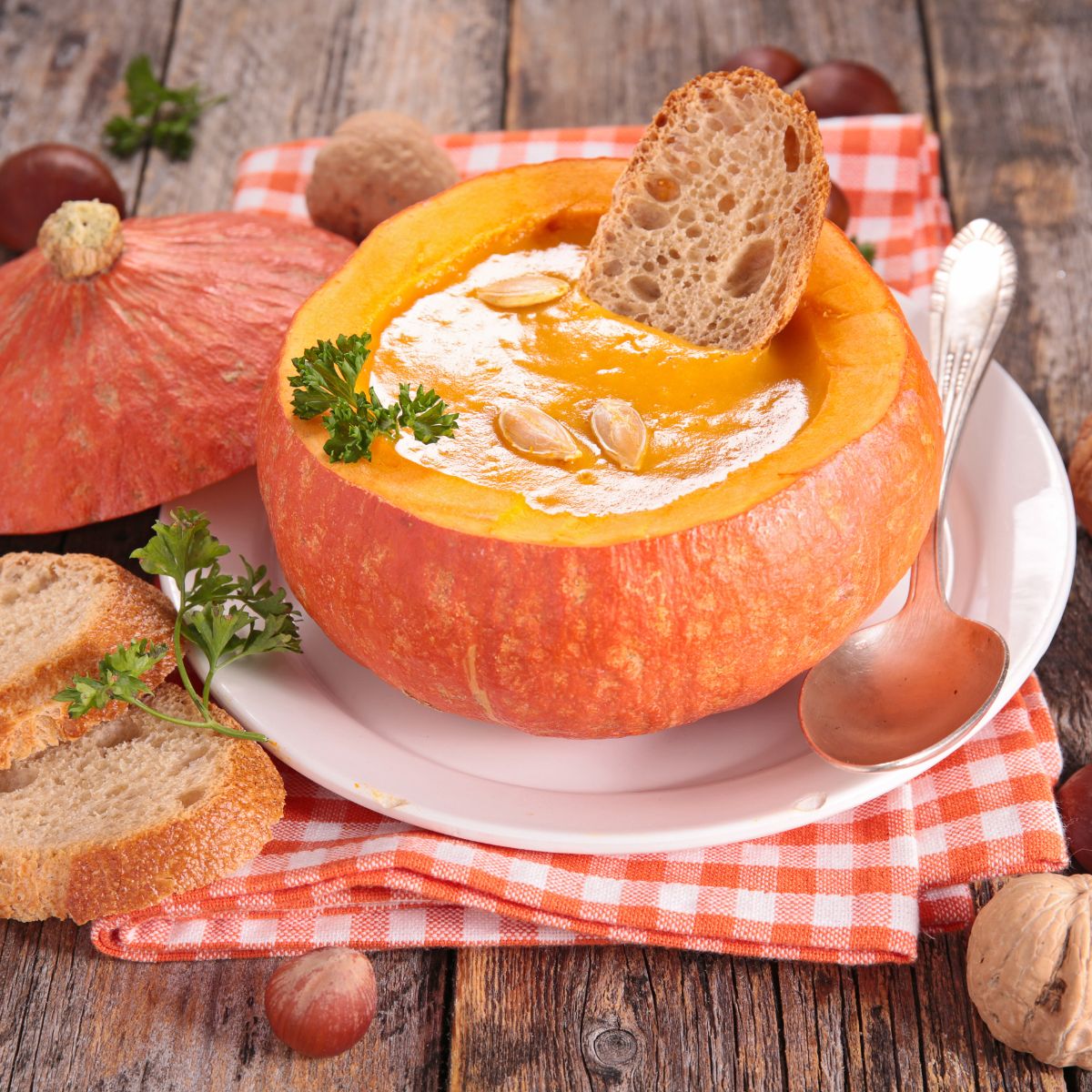 Potato Soups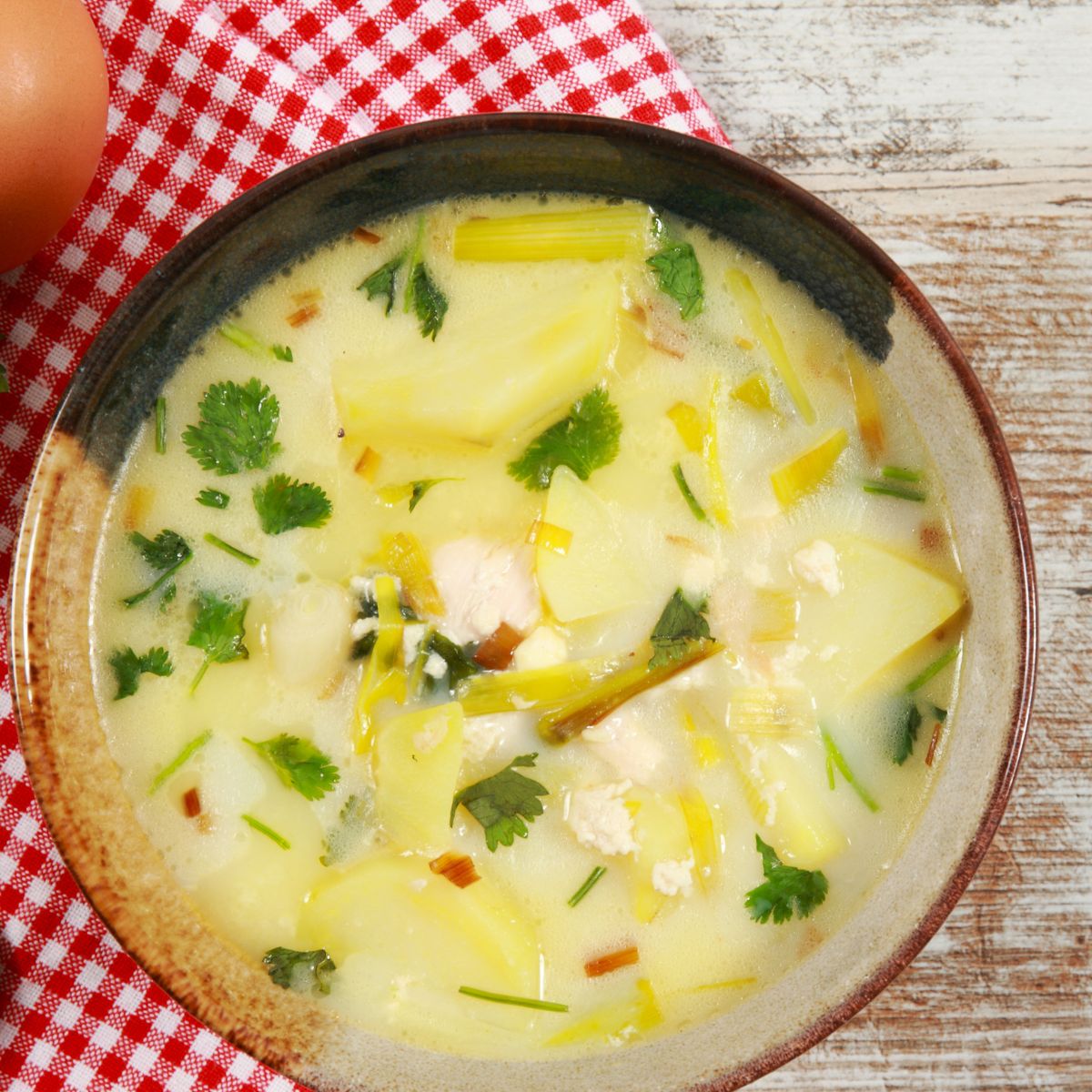 1. Leek and potato soup
Leek and Potato Soup. Rich. Creamy. Scrumptious. This simple soup is vegan and super tasty, especially when garnished with a few homemade croutons. Of course, because of my food sensitivities, I use gluten free bread when I make the croutons.
2. Leek and potato sausage soup
Leek Potato Sausage Soup is a hearty, tasty soup that is especially good in cooler weather. You can make it a bit spicy with hot Italian sausages or milder if you use sweet Italian sausages. Either way, yum!
3. Onion and potato soup
Onion Potato Soup with Dumpling Noodles is a terrific soup anytime. Just 30 minutes until you can eat. It's my favorite potato soup recipe. It's a lot like French Onion Soup with potatoes and dumplings added.
Love soups? This book has over 700 soup recipes: you'll never get bored!
Chicken Soups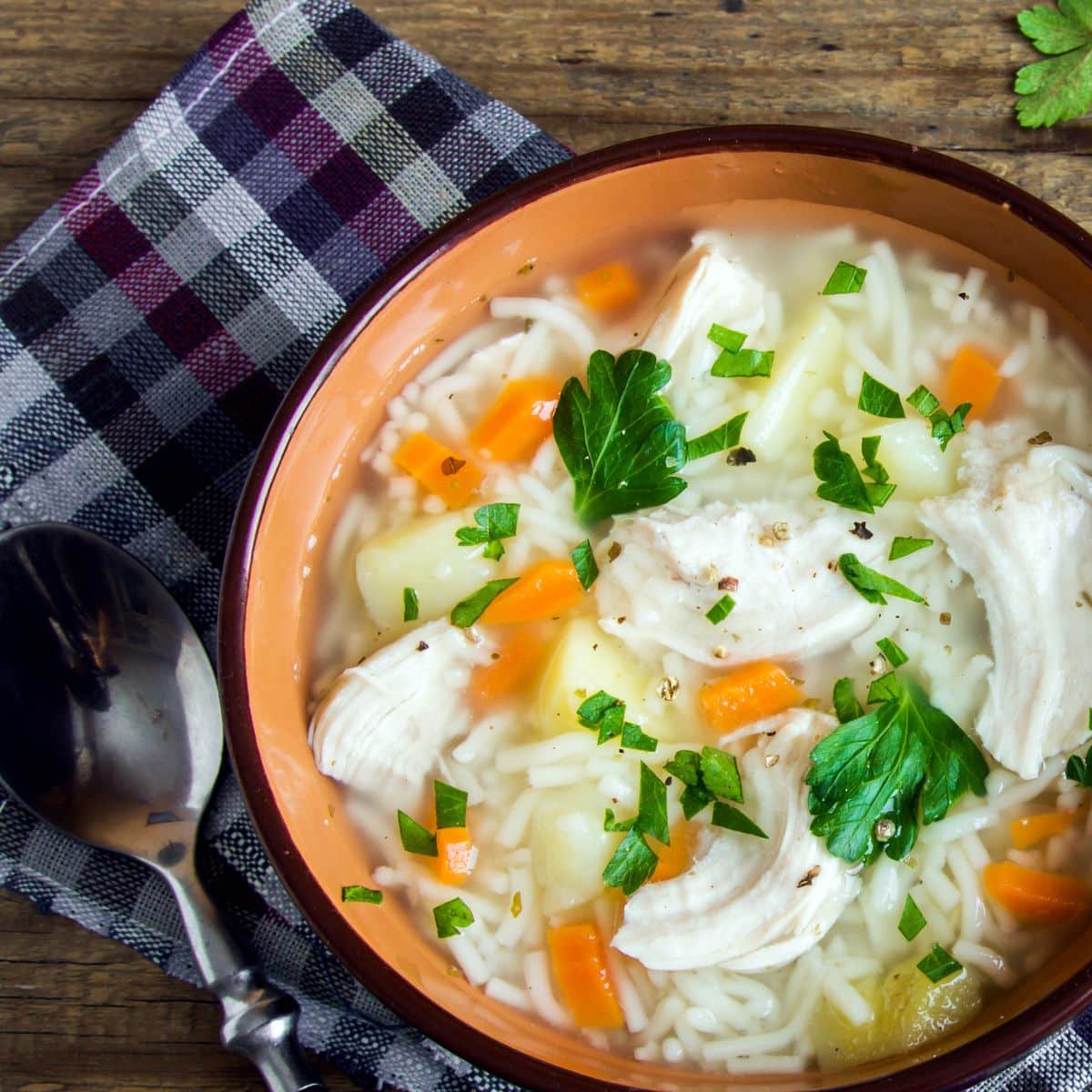 4. Mexican chicken soup
Mexican Chicken Soup is the best chicken soup ever, in my humble opinion. Great cold and illness fighter. It's so delicious, you might want to eat it every day. It freezes well, so keep some in your freezer for when you need a stupendous chicken soup.
5. Mulligatawny chicken soup
Mulligatawny Chicken Soup, a soup with tons of flavor, is thought to have originated in India during British rule. Chicken, tomatoes, green peppers and apples are a good combination in this dish.
6. Tuscan chicken soup
Tuscan Chicken Soup. Easy peasy 30-minute meal with leftover rotisserie or spatchcocked chicken. And, oh, so tasty. Tuscan Chicken Soup is a chicken soup that includes beans, chicken, and greens - in this case, spinach. This soup recipe is a quick, light one-pot meal.
Lentil Soups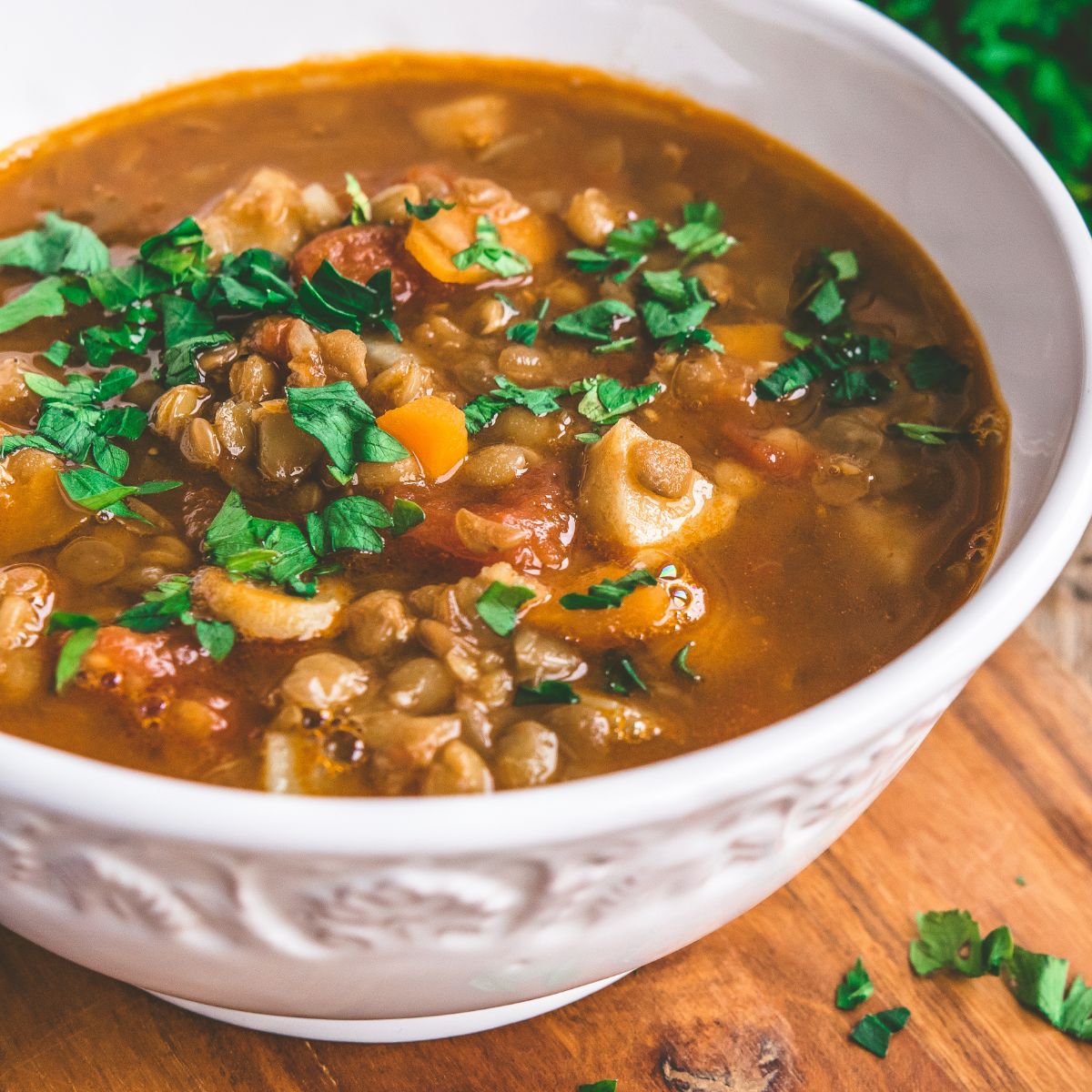 7. Mental lentil soup
Mental Lentil Soup. A silly name, but a hearty, tasty meal. It has a deep, rich flavor that comes from a few simple ingredients. My kids called this soup "Mental Soup" so I incorporated their name for it and call it Mental Lentil Soup. It's robust and scrumptious and good for a rainy day.
8. Chickpea and lentil soup
Chickpea and Lentil Soup (slow cooker recipe) is beautiful, hearty, and scrumptious, with a Mediterranean flair. It's quick to put together in the slow cooker. The combination of savory spices, especially the mint, makes it wicked good.
9. Easy sweet lentil soup
Easy Sweet Lentil Soup cooks in just 35 minutes. Flavored with the goodness of apples, sweet potatoes, and fennel, this vegan and gluten free recipe is super easy and amazingly delicious. Plus, of course, good for you.
Bean Soup Recipes
10. Three bean soup
Three Bean Soup is easy to make and delicious any time of the year. A combination of black beans, pinto beans, and black-eyed peas gives it good protein, flavor, and texture. The tomatoes add beauty, depth, and Vitamin C. I added a ham bone that I had in the freezer when I made this soup. It's likely you won't have one on hand, but you can substitute a little ham bouillon and achieve a similar delicious flavor.
11. Roasted mushroom and white bean soup
Roasted Mushroom and White Bean Soup is perfect for a fall or winter meal. And it's ready in less than an hour. You can pureé it in your food processor to make it a creamy soup. I personally like it better without pureéing all the soup. I only smoosh up one can of beans and a few mushrooms. That makes it a little creamy and you still get the texture of the whole beans and whole mushrooms. Either way, it's delicious!
12. Tuscan white bean stew
Tuscan White Bean Stew with Orange, is a terrific stew to warm you up. The orange juice and rosemary add lightness and depth to the vegan stew. It is filling and good for you!
13. Black bean ful
Middle Eastern Black Bean Ful. Ful is a traditional Egyptian/Middle Eastern/North African stew comprised generally of fava beans, fresh tomatoes, onions, garlic, lemon, and spices. I use black beans instead because I like them. The result is terrific. The flavors just burst in your mouth. And it only takes 25 minutes to make. Add rice and some sauteed greens and you will have an amazing, satisfying meal that people will rave about for a long, long time. Easy and absolutely packed with flavor.
Butternut Squash Soups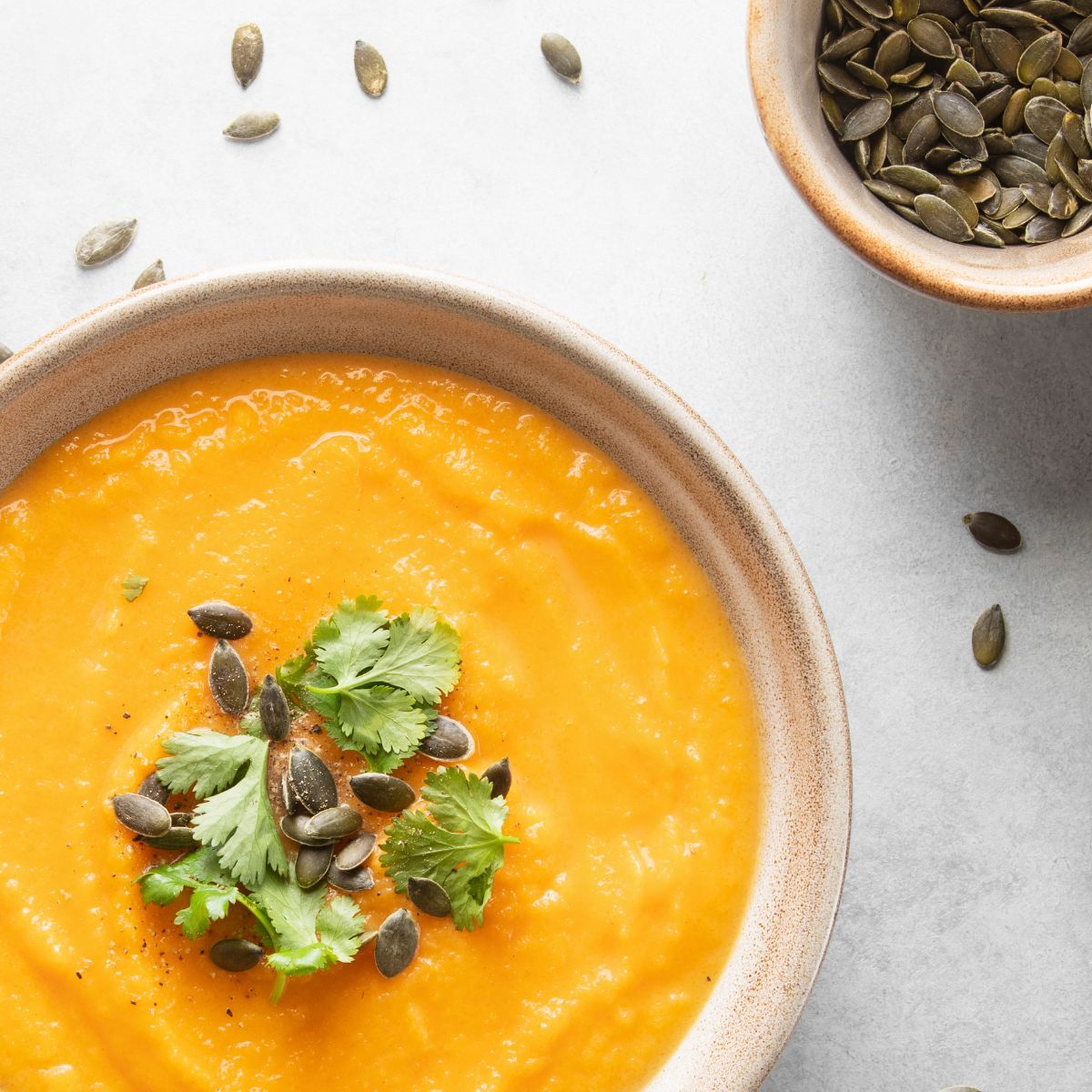 14. Creamy, savory butternut squash soup
Savory Butternut Squash Soup (with Butternut Squash, Thyme, Basil, Oregano & Sage) is such a savory, creamy, scrumptious soup. It takes about 40 minutes to make. Top it with a little candied ginger for an amazing flavor.
15. Vegan GF butternut squash soup
Vegan Gluten Free Butternut Squash Soup is a delicious 40-minute meal with all the goodness of a savory, rich soup. And you won't believe the nutrition, so good for you! Potatoes add a little hearty thickness to this soup. It is savory, a bit sweet, and has just a little bite to it. That's the cayenne pepper. Coconut milk makes it creamy. And it is amazing.
This Harvest Butternut Squash Soup is a scrumptious, savory squash soup that's good for you. It's vegan, gluten free, and low carb. Thyme, sage, and basil give it a rich flavor.
16. Butternut squash vichyssoise soup
Butternut Squash Vichyssoise Soup is modeled after the French creamy potato leek soup that is typically served cold. This vegan soup is so good you can eat it hot or cold. What's better than potato soup? Well, maybe butternut squash soup. In this recipe, I combined the two, and it is amazing.
17. DF, GF Smoky squash soup
Smokin' Butternut Squash Soup (dairy free, gluten free, and vegan). This soup was SO good. And it's delicious either hot or cold so you can serve it any time of the year. Thai red curry paste and smoked paprika give it an amazing depth of flavor.
18. Buttercup squash soup
Gingery Buttercup Squash Soup. Yes, you read that right. Buttercup squash, but you can substitute butternut squash and it will be just as good. Vegan and gluten free but CREAMY. The candied ginger on the top makes this soup to die for.
More Fall Soups Recipes
19. Minty pumpkin soup
Indian Pumpkin Soup with Mint is a delectable fall soup. You can tell just by looking at its deep so-good-for-you color that it will nourish you. This time of year, pumpkins and various squashes are abundant, inexpensive, and tasty. I think most pumpkin soup recipes are a bit on the boring side, but this vegan, gluten free Indian Pumpkin Soup is packed with goodness, flavor, and protein. You are sure to love it.
20. Basil flavored roasted tomatoes soup
Roasted Tomato Basil Soup, mmmm. Mmmmm. Mmmmmm. This family-favorite soup is worth the effort. Great for a rainy day, or any day! Can't beat homemade soup. Alongside a salad or a sandwich and topped with a little Pecorino Romano cheese or Homemade Croutons and you have a meal to remember. Make it smooth or chunky; it's amazing. Since it starts with canned tomatoes, you can make it anytime.
21. French onion soup
French Onion Soup is a comfort meal that is hearty and robust. I know you want some. It's flavorful, rich, and great for a cold day. This homemade soup is topped with melted Swiss and Parmesan cheeses and can be eaten as a first course or an entree. It is easy to make and looks beautiful. Such a classic.
22. Vegetable soup
Clean Out The Fridge Vegetable Soup is just what it sounds like. Make an amazing soup out of all the little bits of vegetables you have on hand. Add a bit of meat if you like. Or you can strictly follow the recipe and chow down on a delightful vegetable soup.
23. Carrot soup with coconut and ginger
Coconut Carrot Ginger Soup is a deliciously savory vegan soup that takes less than an hour to make. The ginger gives it a nice bite and the coconut smooths and deeps the flavors. If you don't like coconut, you can substitute milk or cream.
24. Smoky lemon thyme carrot soup
This Smoky Carrot Lemon Thyme Soup contains a "secret" ingredient that boosts nutrition and flavor. Inspired by a New York Times recipe, it is a creamy vegan soup that is bursting with deep flavor. It's low calorie and filled with goodness. Perfect for a cold winter's day.
25. Tomato artichoke soup
Tomato Artichoke Soup, a delicious bean, tomato, and artichoke stew that makes you say, "MMMMM. This is SO good." Tangy and flavorful, this simple soup takes just 20 minutes. It calls for Cannellini beans (white kidney beans). They are creamy and silky and oh, so delicious. Tangy artichokes provide a burst of flavor that you will love. The combination of flavors is terrific.
26. Mushroom soup
Mixed Mushroom Soup with Sherry (Slow Cooker Recipe) is a robust, creamy mushroom soup with a depth of flavor that will delight you. The gluten free soup is thickened with cornstarch. A bit of cream and blending only some of the soup makes it extra creamy. And the combination of porcini mushrooms and sherry adds an elegant flavor you will love. Worried about the alcohol in the sherry? The alcohol burns off as it cooks, leaving only the amazing flavor of the sherry.
27. Vegan roasted corn chowder
Roasted Corn Chowder (Vegan and Gluten Free). A hearty, super tasty soup for a dreary, rainy day! (Or any day.) The recipe is interesting, not only because it includes an unusual ingredient (sunflower seeds), but also because it is like a cross between Onion Soup and Corn Chowder. I absolutely love it. The only thing that would make it better is bacon!
Chili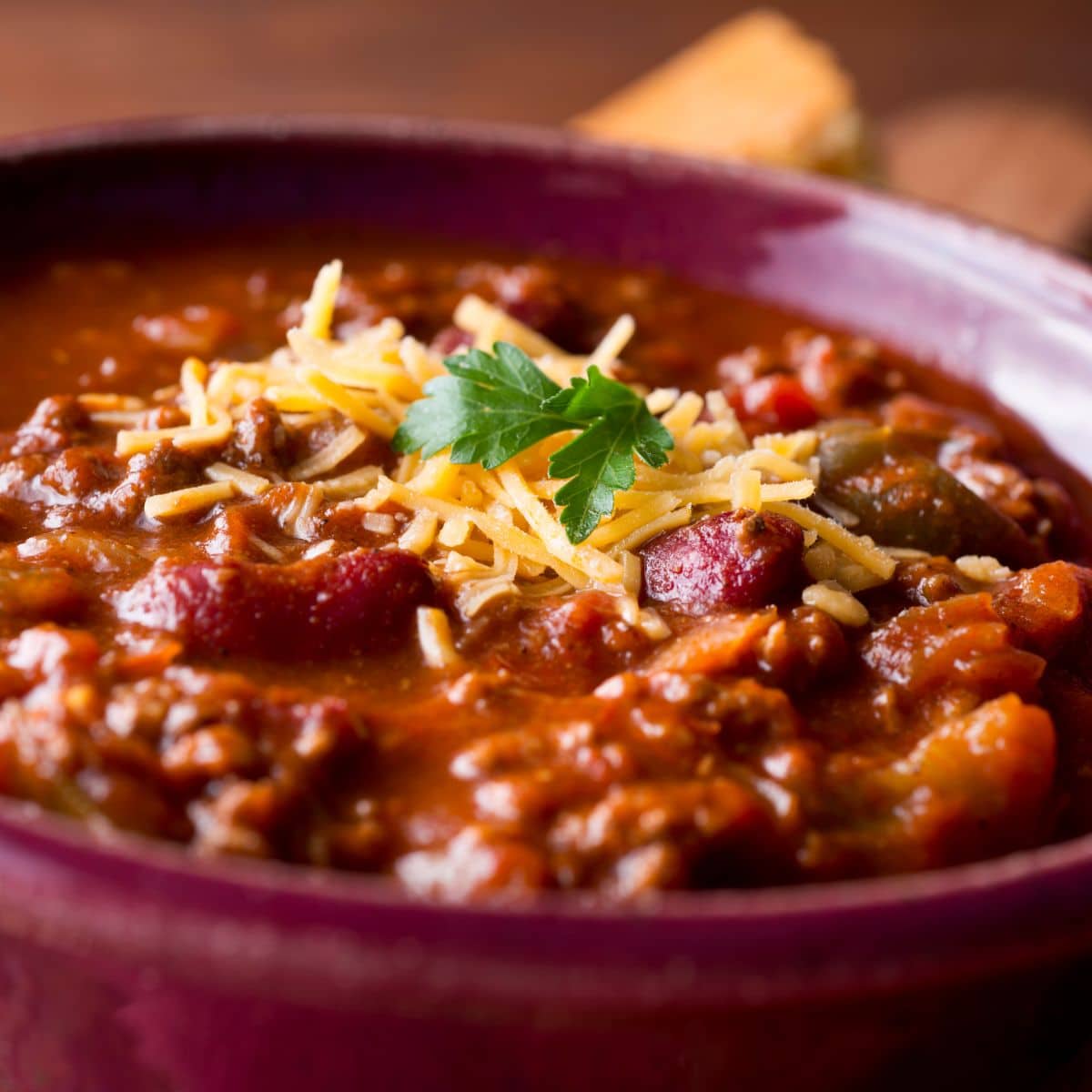 While chili isn't technically a soup, it's the perfect addition to the dinner table in the fall, so I'm adding a few of my favorites.
28. Black bean chili
Black Bean Chili is delicious and easy on the tummy. Why? Because black beans are easier for some folks to digest. Not only is chili delicious, but you can make it in 30 minutes or less. I topped mine with a few scallions, and it really hit the spot.
29. Black beans vegetarian chili
Julie's Black Bean Vegetarian Chili has just the right amount of spiciness and vegetables. Peppers, onions, black beans. Garlic, tomatoes, yum! Cumin seeds and fresh or jarred chilis add to the flavor. Black beans are mild and easily digestible for most folks.
30. White beans and black eyed peas chili
Black Eyed Peas White Bean Chili is a comfort food you'll love. Mild, flavorful, and full of protein, it uses back eyed peas and ground turkey. The black eyed peas keep their shape and the texture is good. Puree the white beans to create a creamy texture. The recipe is easy. Using turkey instead of ground beef considerably reduces the fat in the recipe. So fill your belly without expanding it!
31. Vegetarian chili
Cincinnati Vegetarian Chili has that special flavoring that makes it "Cincinnati." But it does have a secret ingredient. Do you know what it is? Add a bit of cheese or Fritos to the top for a special flavor. This is such a delicious meal-in-one.
32. Ground beef chili
Traditional Chili With Ground Beef warms and fills you up. It's a quick, easy comfort food meal. Chili is a simple, one-pot meal that only takes 30 minutes to make. Ground beef, onions, tomatoes, and spices. Yum!
33. Coconut chili
Coconut Chili. So scrumptious. Coconut Rice + Traditional Chili with Ground Beef. Some people like chili made with ground turkey, but I prefer ground beef or a combination of the two meats. The addition of Coconut Basmati Rice makes this a superior meal.
What soup will you make this weekend or right now? Let's see, I have all the ingredients for chili, and it is fall after all!
To complete your dinner table look, add some orange colored dinnerware.